TMCnet News
Zefiro Methane Corp. & X Machina Capital Strategies to Co-Host 2023 NYC Climate Week Event
BRADFORD, Pa., Sept. 21, 2023 (GLOBE NEWSWIRE) -- ZEFIRO METHANE CORP. (the "Company", "Zefiro", or "ZEFI") and X Machina Capital Strategies ("XMC") today announced that they will be co-hosting an event this evening as part of Climate Week 2023 in New York City. The event, titled "Unlocking Innovation Through Sustainable Investment", will be held in midtown Manhattan and will provide key sector stakeholders, investors, and members of the media the opportunity to learn more about Zefiro and XMC's efforts to facilitate investment in the hydrocarbon economy.

Specifically, this invitation-only gathering will feature insights from numerous members of Zefiro's management team regarding the Company's ongoing nationwide initiatives to reduce methane emissions by permanently plugging orphaned oil and gas wells. According to an estimate published in June 2023 by the University of Cincinnati, there are more than four million of these abandoned sites spread out across 26 different states. Numerous studies have also indicated that many of these wells are currently emitting methane that is approximately 25-84 times more potent than carbon dioxide and can seriously harm surrounding areas' air and drinking water quality. Zefiro's series of recent investments in its operational capacity exhibit a commercially viable and scalable solution to this problem, and the Company's current work at a variety of active job sites has led to on-the-ground crews across the country locating and plugging an increasing number of these potentially toxic sites.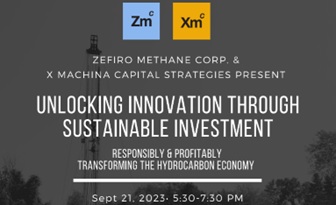 Zefiro and XMC will be hosting a two-hour event during Climate Week NYC in midtown Manhattan where presentations will be delivered on the topic of sustainable investment in the hydrocarbon economy. A networking reception will follow, with cocktails and hors d'oeuvres served to guests.
Readers using news aggregation services may be unable to view the media above. Please access the Investors section of the Company's website for a version of this press release containing all published media.
"As the hydrocarbon space continues to evolve, Zefiro and XMC are working hand-in-hand to make targeted investments in projects that can produce immediate public health benefits for our communities," said Talal Debs, Founder and Chairman of Zefiro and Founder of XMC. "We cannot build a bridge to cleaner tomorrow without remediating the legacy environmental issues affecting the lives of countless Americans today, and we are proud to be co-hosting this event during such an important moment in the drive toward a more sustainable future."
On behalf of the Board of Directors of the Company,
ZEFIRO METHANE CORP.
"Curt Hopkins"
Curt Hopkins, CEO
For further information, please contact:
Zefiro Investor Relations
1 (800) 274-ZEFI (274-9334)
[email protected]
For media inquiries, please contact:
Rich Myers - Profile Advisors (New York)
[email protected]
(347) 343-2999
About Zefiro Methane Corp.
Zefiro develops methodologies to reduce methane emissions by plugging orphaned and abandoned oil/gas wells, while originating carbon offsets. Under executive leadership to include the former carbon market team at J.P. Morgan, Zefiro actively deploys crews to decommission wells throughout the United States. With unprecedented global demand for carbon offsets as corporations and institutions work towards net-zero targets, Zefiro is strategically aligning with industry leaders for a greener future.
Forward-Looking Statements
This press release contains "forward-looking information" within the meaning of applicable Canadian securities legislation. Forward-looking information is often, but not always, identified by the use of words such as "seeks", "believes", "plans", "expects", "intends", "estimates", "anticipates" and statements that an event or result "may", "will", "should", "could" or "might" occur or be achieved and other similar expressions. Forward-looking information in this press release includes statements regarding the Company, the Company's business, the industry in which the Company operates, the Company's opportunities, strategies, competition, expected activities and expenditures as the Company pursues its business plan, the adequacy of the Company's available cash resources and other statements about future events or results. The forward-looking information reflects management's current expectations based on information currently available and are subject to a number of risks and uncertainties that may cause outcomes to differ materially from those discussed in the forward-looking information. Although the Company believes that the assumptions and factors used in preparing the forward-looking information are reasonable, undue reliance should not be placed on such information and no assurance can be given that such events will occur in the disclosed timeframes or at all. Factors that could cause actual results or events to differ materially from current expectations include: (i) adverse general market and economic conditions; (ii) changes to and price and volume volatility in the carbon market; (iii) changes to the regulatory landscape and global policies applicable to the Company's business; and (iv) other factors beyond the control of the Company. The Company operates in a rapidly evolving environment where technologies are in the early stage of adoption. New risk factors emerge from time to time, and it is impossible for the Company's management to predict all risk factors, nor can the Company assess the impact of all factors on Company's business or the extent to which any factor, or combination of factors, may cause actual results to differ from those contained in any forward-looking information. The forward-looking information is based on a number of assumptions, including assumptions regarding general market conditions, the availability of financing for proposed transactions and programs on reasonable terms, and the ability of outside service providers to deliver services in a satisfactory and timely manner. The forward-looking information included in this press release are made as of the date of this press release and the Company expressly disclaims any intention or obligation to update or revise any forward-looking information whether as a result of new information, future events or otherwise, except as required by applicable law.
A photo accompanying this announcement is available at https://www.globenewswire.com/NewsRoom/AttachmentNg/8138e1a7-dbab-4761-9aae-bf51f1fa9b4f