TMCnet News
WISeKey and Caspian Container Launch the Smart Container Consortium at the Global Freight Summit in Dubai
WISeKey and Caspian Container Launch the Smart Container Consortium at the Global Freight Summit in Dubai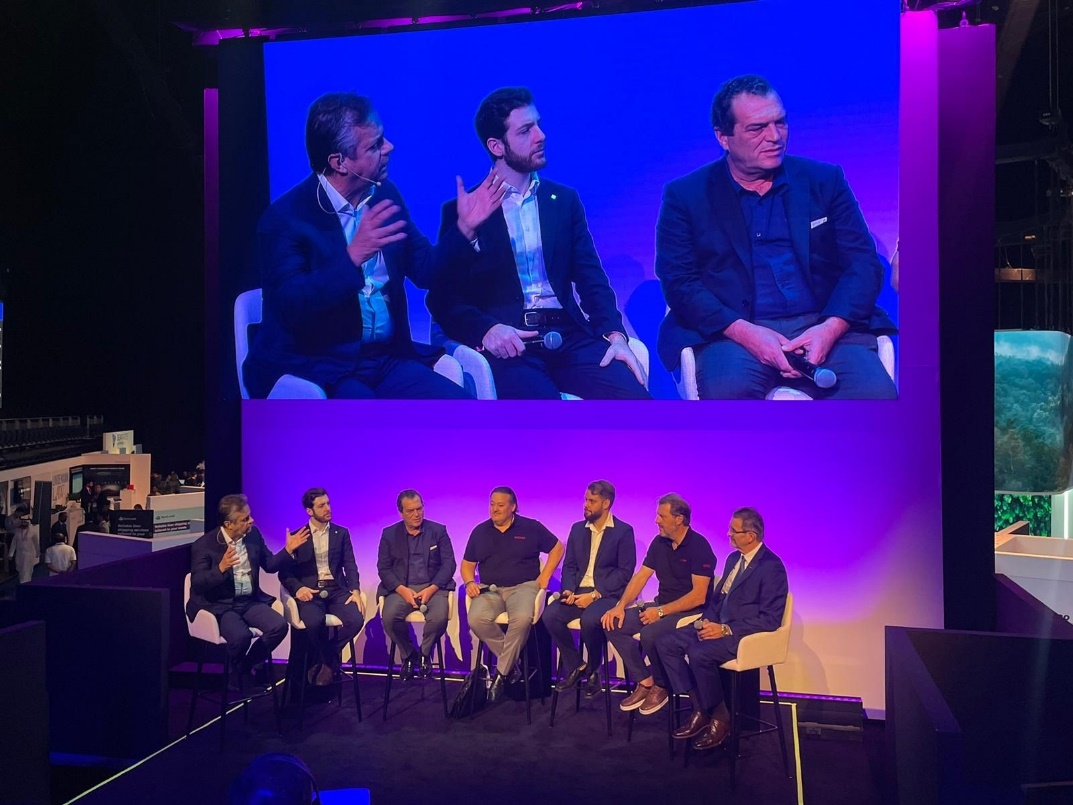 Dubai / Geneva, November 16, 2023 – WISeKey International Holding Ltd. ("WISeKey") (SIX: WIHN, NASDAQ: WKEY), a leader in cybersecurity, digital identity, and Internet of Things (IoT) solutions operating as a holding company, in collaboration with Caspian Container Company SA, part of Integral Group, today announced the formation of a groundbreaking consortium at the Global Freight Summit in Dubai.
This pioneering initiative, known as the Smart Container Consortium, is dedicated to revolutionizing container logistics through the deployment of IoT-enabled devices and sensors. This innovative approach ensures global, real-time tracking and tracing capabilities via the WISeSat Satellite constellation.
Innovative Technology for Global Logistics
The Consortium's primary focus is to equip every container of the Caspian Container Company with WISeKey's cutting-edge sensor and Secure Element from its esteemed VaultIC family. This secure microcontroller is designed for seamless integration by manufacturers into any object and is provided as a provisioning service. It represents a significant technological leap, forming the backbone for data and value transfer in the Machine Economy.
A Collective Venture for Technological Evolution
The Consortium has garnered the support of several industry leaders, including Bernardino Abad S.L., FOSSA Systems, Avant iot, SEALSQ Corp (Nasdaq: LAES), and others. These partnerships aim to spearhead technological advancements in the logistics sector, transforming ordinary containers into smart, IoT-enabled devices for efficient global tracking.
The smart container market is expected to grow significantly, with projections indicating a rise from $2.83 billion in 2022 to $3.37 billion in 2023. This Consortium is poised to play a crucial role in this expansion.
Carlos Moreira, CEO of WISeKey, expressed, "Our renewed collaboration with Integral Group propels our partnership into the space, as we jointly sculpt this integrated smart container solution using PKI, IoT, and Blockchain technologies for the Caspian Region. United, we aim to carveout growth trajectories for start-ups in the Caspian Region, underpinned by algorithmically balanced ecosystems of trading and investment platforms."

Murat Seitnepesov, Chairman of the Board at Integral Group, expressed enthusiasm about the collaboration with WISeKey: "This partnership marks a milestone in enhancing trade and logistics connectivity in the Greater Caspian Sea region."
About Caspian Container Company
Caspian Container Company aims to revolutionize logistics connecivity in the Greater Caspian Region through containerization. In partnership with DP World, it focuses on developing and digitalizing logistics in the region and beyond. Caspian Container Company: www.cccsa.ch
About Integral Group
Integral Group is a leading force in commodity trading, logistics, and digital projects in the Greater Caspian Region. It's a partner of the World Economic Forum and organizer of the Caspian Week Forum in Davos. Integral Group: www.integral-commodities.ch
About WISeKey:
WISeKey International Holding Ltd ("WISeKey", SIX: WIHN; Nasdaq: WKEY) is a global leader in cybersecurity, digital identity, and IoT solutions platform. It operates as a Swiss-based holding company through several operational subsidiaries, each dedicated to specific aspects of its technology portfolio. The subsidiaries include (i) SEALSQ Corp (Nasdaq: LAES), which focuses on semiconductors, PKI, and post-quantum technology products, (ii) WISeKey SA which specializes in RoT and PKI solutions for secure authentication and identification in IoT, Blockchain, and AI, (iii) WISeSat AG which focuses on space technology for secure satellite communication, specifically for IoT applications, and (iv) WISe.ART Corp which focuses on trusted blockchain NFTs and operates the WISe.ART marketplace for secure NFT transactions.
Each subsidiary contributes to WISeKey's mission of securing the internet while focusing on their respective areas of research and expertise. Their technologies seamlessly integrate into the comprehensive WISeKey platform. WISeKey secures digital identity ecosystems for individuals and objects using Blockchain, AI, and IoT technologies. With over 1.6 billion microchips deployed across various IoT sectors, WISeKey plays a vital role in securing the Internet of Everything. The company's semiconductors generate valuable Big Data that, when analyzed with AI, enable predictive equipment failure prevention. Trusted by the OISTE/WISeKey cryptographic Root of Trust, WISeKey provides secure authentication and identification for IoT, Blockchain, and AI applications. The WISeKey Root of Trust ensures the integrity of online transactions between objects and people. For more information on WISeKey's strategic direction and its subsidiary companies, please visit www.wisekey.com.
Press and investor contacts:
Disclaimer: This communication expressly or implicitly contains certain forward-looking statements concerning WISeKey International Holding Ltd and its business. Such statements involve certain known and unknown risks, uncertainties, and other factors, which could cause the actual results, financial condition, performance, or achievements of WISeKey International Holding Ltd to be materially different from any future results, performance or achievements expressed or implied by such forward-looking statements. WISeKey International Holding Ltd is providing this communication as of this date and does not undertake to update any forward-looking statements contained herein as a result of new information, future events or otherwise.
This press release does not constitute an offer to sell, or a solicitation of an offer to buy, any securities, and it does not constitute an offering prospectus within the meaning of article 652a or article 1156 of the Swiss Code of Obligations or a listing prospectus within the meaning of the listing rules of the SIX Swiss Exchange. Investors must rely on their own evaluation of WISeKey and its securities, including the merits and risks involved. Nothing contained herein is, or shall be relied on as, a promise or representation as to the future performance of WISeKey.