TMCnet News
Harri Releases Intelligent Engagement Solution to Improve Retention for Frontline Teams
NEW YORK, Nov. 08, 2023 (GLOBE NEWSWIRE) -- Harri, the revolutionary Frontline Employee Experience platform serving over 35,000 restaurant and hotel locations and four million hospitality employees globally, today announced the availability of its latest innovation, Harri Engage, designed to help service-led businesses enhance engagement and improve retention of their frontline teams.

Hospitality businesses continue to struggle with turnover rates that are five times higher than industry-wide averages, with annual turnover consistently hovering between 70-80 percent per recent Bureau of Labor and Statistics research. This acute retention crisis is compounded by a large percentage of the frontline workforce leaving jobs before they even reach 90 days, disrupting workforce productivity while driving up labor costs and crushing profitability.
Developed in partnership with hospitality clients, Harri Engage is designed to tackle the source of employee turnover at the source by making engagement execution simple while still delivering powerful workforce insights to drive change.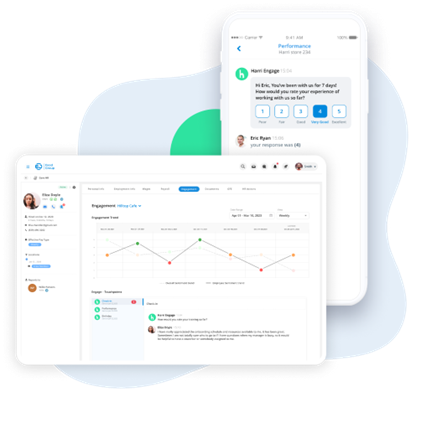 "The Harri team includes many former restaurant operators and hospitality leaders, including myself, who believe passionately in driving meaningful change for employees and managers in an industry where employees often leave roles before they even reach 90 days," commented Harri CEO Luke Fryer. "We designed Harri Engage with automation and intelligence at the core, mking it incredibly simple to foster connection and support for frontline employees so they feel valued. By delivering engagement touchpoints through the tools teams already use at work and in life, engagement strategies can finally drive measurable improvement in employee retention."
As part of the Harri suite of solutions, touchpoints for engagement are delivered where employees clock in, delivering unprecedented 100 percent adoption, and through the mobile app they already use for scheduling, swapping shifts or connecting with their team. Sentiment and feedback are summarized in actionable insight delivered via visual dashboards and reporting, enabling managers to easily identify trends across employees or locations and intervene to prevent turnover. Near-term innovation will include the extension of Harri's existing conversational AI capabilities to drive Conversational Engagement through the entire employee journey from job application through departure. In early 2024, Harri Engage will leverage artificial intelligence to marry the explicit feedback we gather today with implicit actions based on employee behaviors across the Harri platform, such as clocking in late or identifying scheduling discrepancies, to present the most comprehensive view of turnover indicators available.
"Harri Engage is helping us spot opportunities to ensure new starters feel adequately trained in their first few weeks and months with us, giving managers the insight they need to know when to intervene and help drive employees towards success in those critical first 90 days," commented Patty Collins, Director of Business Processes at Cafua Management, Harri customer and the largest private Dunkin' Donuts franchise in the United States.
To learn more about how Harri Engage can help reduce turnover through effortless engagement delivery, visit harri.com/engagement.
About Harri
Harri is the global leader in Frontline Employee Experience technologies. The Harri platform is built for companies that have service at the heart of their business and believe that the customer experience will never exceed the employee experience. The Harri suite of talent attraction, workforce management, employee engagement, and compliance technologies enable organizations to intelligently attract, manage, engage and retain the best talent to run and improve their business. Harri serves over 35,000 restaurant and hotel locations and four million hospitality employees globally, with emerging growth in retail and healthcare. Based in New York City, the company recently completed its Series B funding of $43 million. To learn more, visit www.harri.com.
Note to editors: Trademarks and registered trademarks referenced herein remain the property of their respective owners.
A photo accompanying this announcement is available at https://www.globenewswire.com/NewsRoom/AttachmentNg/ebf1d7c9-e952-4d65-85ee-43054afb686e

Media Contact:
Jeanne Achille
The Devon Group
[email protected]