TMCnet News
Missed Bitcoin? Don't Miss GOLD Coin!
Washington, D.C., Sept. 25, 2023 (GLOBE NEWSWIRE) -- $GOLD Coin, An ERC-20 Memecoin, was launched on September 21st. It saw an incredible price growth in just 24 hours. Dominating the number 1 spot on 'Dex Tools' with impressive volume. GOLD Coin Rises Over 1,000%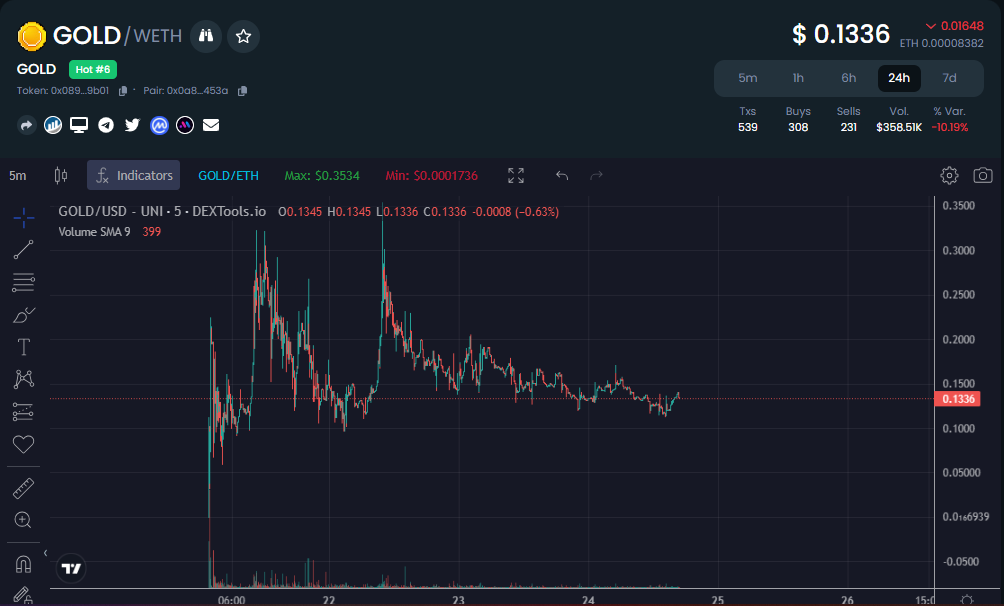 The project quickly gained substantial momentum and attracted a highly active community in a short period of time. As the project's Telegram group continues to grow, and the community remains highly active on Twitter (X). As the community plays a vital role in any Memecoin, GOLD Coin likely has a promising future.

Missed Bitcoin? Don't Miss Gold!
Gold has been the symbol of power, wealth, & beauty in all of humanity's recorded history. It is also widely used in internet culture to convey digital currencies. 
The GOLD coin is the Ethereum project for one of the most valuable resources in the world. It's also a meme. That's all it'll ever be. Launched stealth with no presale, low taxes, & LP burnt. Contract will be renounced. GOLD is here to bring back the golden Era of crypto.

The Roadmap of GOLD Coin
Another essential aspect of $GOLD is the project's roadmap. This outlines the timeline of key milestones, allowing investors to accurately track the team's progress. The roadmap follows the three phases of meme evolution.
The first phase focuses on introducing the coin to its community and solidifying its presence on various exchange platforms. This includes the launch of $GOLD and listings on several mid-cap exchanges.
The second phase is all about scaling up and reaching a wider audience. This involves surpassing the milestone of 25,000 holders and involves achieving listings on top-tier exchanges and introducing the Reincarnated (AI).
The final phase is when $GOLD will reach its full potential. and surpassing the milestone of 1,000,000 holders.

GOLD Coin can be traded on Uniswap 
A decentralized exchange for the Ethereum network, with a 0% tax. The project aims to be listed on tier 1 centralized exchanges in the future to diversify trading options and gain more visibility. The team appears to have extensive connections and significant experience in the crypto space.
For more information and to dig deeper into GOLD Coin, visit the GOLD project website and follow GOLD on Twitter and join the Telegram community.
Disclaimer: The information provided in this press release is not a solicitation for investment, or intended as investment advice, financial advice, or trading advice. It is strongly recommended that you practice due diligence (including consultation with a professional financial advisor) before investing in or trading securities and cryptocurrency.

Mike Woolf
info-at-hodl.gold