TMCnet News
Waabi and Uber Freight partner to build an industry-first solution for seamless autonomous truck deployment
TORONTO, Sept. 21, 2023 (GLOBE NEWSWIRE) -- Waabi, the global leader in generative AI and simulation for autonomous driving, and Uber Freight, today announced a strategic partnership to accelerate the safe deployment of AI-powered autonomous trucks at scale. The agreement pairs Waabi's core technology—the Waabi Driver—with Uber Freight's vast logistics platform, marketplace technology, and expertise in autonomous trucking operations to deliver a turnkey driver-as-a-service solution that will be the first of its kind.

By providing carriers with the services and infrastructure to deploy, maintain and manage their autonomous assets seamlessly, the bundled solution can help increase asset utilization significantly as well as drive profitability for carriers of all sizes. Over the next ten years, the two companies also intend to deploy billions of miles of Waabi Driver capacity alongside carrier partners on the Uber Freight network, ensuring the technology will have a meaningful impact for shippers and carriers over the long term.
To gather valuable insights for the joint solution, Waabi Driver trucks have been deployed on the Uber Freight network giving Uber Freight customers early access to autonomous freight capacity. The autonomous commercial loads, the first of which ran this week, will run regularly between Dallas and Houston and give the thousands of shippers and carriers on the Uber Freight network an opportunity to better understand what the future of supply chain operations will look like and how autonomous trucks can improve overall network efficiency. As the partnership continues to advance, commercial operations will quickly expand to other key lanes in Texas and beyond.
"Uber Freight has the scaled freight network and marketplace expertise needed to efficiently and safely deploy our AI-powered autonomous driving technology at scale," said Raquel Urtasun, Founder and CEO of Waabi. "The unique solution we are building together will empower carriers to dynamically and effectively deploy the Waabi Driver while also unlocking critical capacity for shippers and driving value throughout the supply chain. Together with Uber Freight, we are accelerating the future of autonomous trucking and providing a seamless path to autonomy for everyone."
"This exciting partnership allows us to bring Waabi's revolutionary generative AI innovation to the forefront of our vast freight network, providing our shippers and carriers nationwide with the tools needed to embrace autonomous technology and transform their operations safely and efficiently," said Lior Ron, Founder and CEO of Uber Freight. "We are thrilled to work with Waabi to usher in a new era for our industry."
A new model for AI-powered autonomous truck adoption and deployment
While autonomous trucks represent a huge opportunity for the logistics industry to increase asset utilization, improve road safety, lower carbon emissions, and improve drivers' livelihoods, reaching their full potential hinges on integrating into a scaled freight network that can optimize load matching, orchestrate hub-to-hub operations, and provide carriers a streamlined experience for onboarding, load booking and execution, trailer hand-offs, payments and asset maintenance.
The industry-first driver-as-a-service solution at the center of the partnership will pair the Waabi Driver with Uber Freight's technology and services to offer carriers the most technologically advanced, operationally efficient and holistic model for safely and effectively adopting autonomous trucks within their fleets. In the future, carriers with Waabi Driver-enabled trucks will have the option to deploy their assets instantly and seamlessly on the Uber Freight network, taking advantage of continuously optimized routes, as well as an ecosystem of partnerships with transfer hub infrastructure, roadside assistance, and national maintenance providers.
A robust technical integration betwen the two companies will enable shippers to tap directly into Waabi Driver capacity from Uber Freight's digital tools, making it easy to transform procurement strategies and incorporate efficient and reliable autonomous capacity into their day-to-day operations. With $18 billion of Freight Under Management, Uber Freight is uniquely positioned to improve reliability and cost-effectiveness for shippers by optimizing routes and combining shipments, ultimately maximizing utilization of autonomous and human-driven trucks across entire networks.
Importantly, the partnership between the two companies will make it effortless for carriers and shippers to unleash Waabi's AI-powered technology within their own operations. Waabi, which launched in 2021, is tackling autonomous driving in a new way, leading with generative AI to radically change the way autonomous driving systems work. The Waabi Driver is the first autonomous truck solution to be built around a foundation AI model, which unlike traditional approaches that require painstaking manual code adjustments, can automatically learn from data and generalize its learnings to all the situations it might encounter on the road, including those that it has never seen before.
Uniquely, the Waabi Driver's development is front loaded within Waabi's revolutionary simulator, Waabi World — the most scalable, highest fidelity closed-loop simulator to ever exist. In Waabi World, generative AI reconstructs digital twins automatically from raw sensor data. These digital twins can then be modified to create infinite potential new scenarios, exposing the Waabi Driver to the vast diversity of experiences needed to hone its driving skills, including common scenarios and safety-critical edge cases. This approach drastically reduces the need to drive in the real world, resulting in a solution for carriers and shippers that is not only more sustainable, but also smarter, safer, and more scalable
Accelerating the future of logistics and driving positive change across safety, efficiency, jobs and the environment
The partnership between Waabi and Uber Freight comes at a time when logistics innovation is needed most. Not only is the industry facing considerable inefficiencies across supply chains, with an estimated ~20-35% of miles being driven empty, and a looming shortage of truck drivers, expected to reach 160,000 by 2028, but persistent safety issues continue to plague the industry. The National Highway Traffic Safety Administration (NHTSA) reported that in 2019, large truck crashes accounted for more than 5,000 lives lost—and 87% of large truck crashes involve human error, according to historical data from the Federal Motor Carrier Safety Administration (FMCSA). Additionally, transportation is the only sector with emissions that are still growing in US & Europe and freight trucking, in particular, accounts for nearly 7% of US CO2 emissions.
Autonomous trucks have tremendous potential to address these issues, significantly increasing asset utilization, reducing carbon emissions, improving road safety, and positively reimagining the career outlook and quality of life for truck drivers. A recent study by the Department of Transportation found that autonomous trucks could actually stimulate job growth and increase total U.S. employment by 26,400 to 35,100 jobs per year on average. Together, the two companies look forward to advancing logistics and delivering on the promise of autonomous trucks.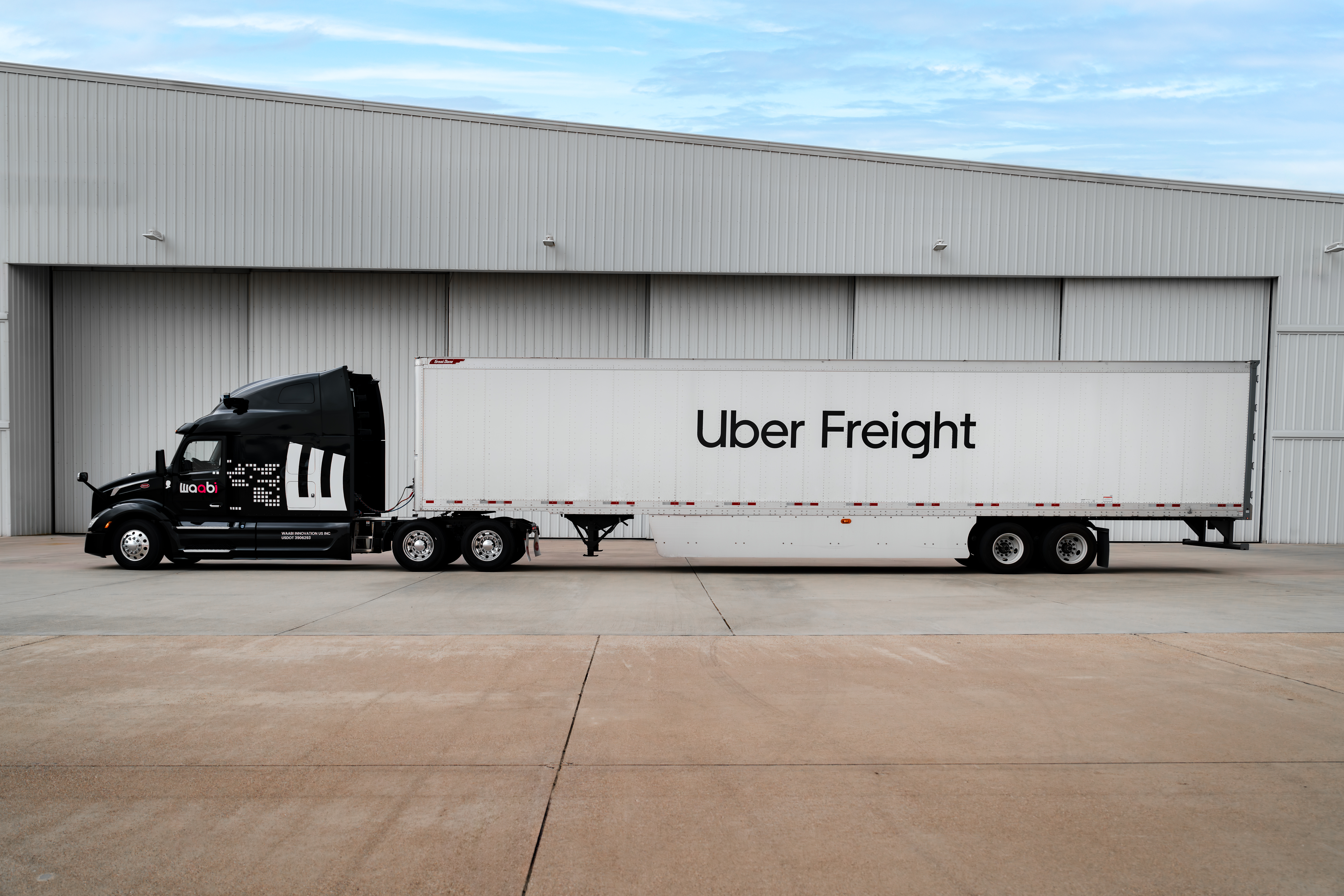 About Waabi
Waabi, founded by AI pioneer and visionary Raquel Urtasun, is an AI company building the next generation of autonomous driving technology. With a world class team and a revolutionary approach that unleashes the power of generative AI to "drive" safely in the real world, Waabi is bringing the promise of autonomous driving closer to commercialization than ever before. Waabi is backed by best-in-class investors across the technology, logistics and the Canadian innovation ecosystem, including Volvo Group Venture Capital, Khosla Ventures, Uber, 8VC, Radical Ventures, OMERS Ventures and BDC. To learn more, visit: www.waabi.ai.
About Uber Freight
Uber Freight is a logistics solutions provider and leading Transportation Management partner that is reshaping global logistics for shippers and carriers of all sizes. Backed by a suite of logistics solutions and services grounded in innovative marketplace technology, Uber Freight transforms entrenched practices around pricing and booking freight and brings reliability, flexibility and transparency to the movement of goods. With over $18 billion FUM, Uber Freight has built one of the world's most comprehensive logistics networks consisting of approximately 100,000 digitally-enabled carriers and thousands of shippers, from small businesses to Fortune 500 companies, including AB Inbev, Nestle, Land O'Lakes, and many more. For more, visit www.uberfreight.com.
A photo accompanying this announcement is available at https://www.globenewswire.com/NewsRoom/AttachmentNg/e7dd5f2a-036e-47e3-b9bb-f67069ad2057
Media Contacts:
Waabi: <[email protected]>
Uber Freight: <[email protected]>