TMCnet News
BitMart Launches "Vote to Earn NFT Round Two" with Exclusive Pre-Sale and Marketplace Release
JERSEY CITY, NJ, Sept. 20, 2023 (GLOBE NEWSWIRE) -- BitMart, the global cryptocurrency exchange, is thrilled to announce the exciting launch of its "Vote to Earn II" NFT. After the remarkable success of its inaugural Vote to Earn NFT, BitMart is again offering its community the unique opportunity to actively vote on potential projects to be listed on BitMart and earn coveted airdrops from projects that reach the voting threshold and are successfully listed on BitMart.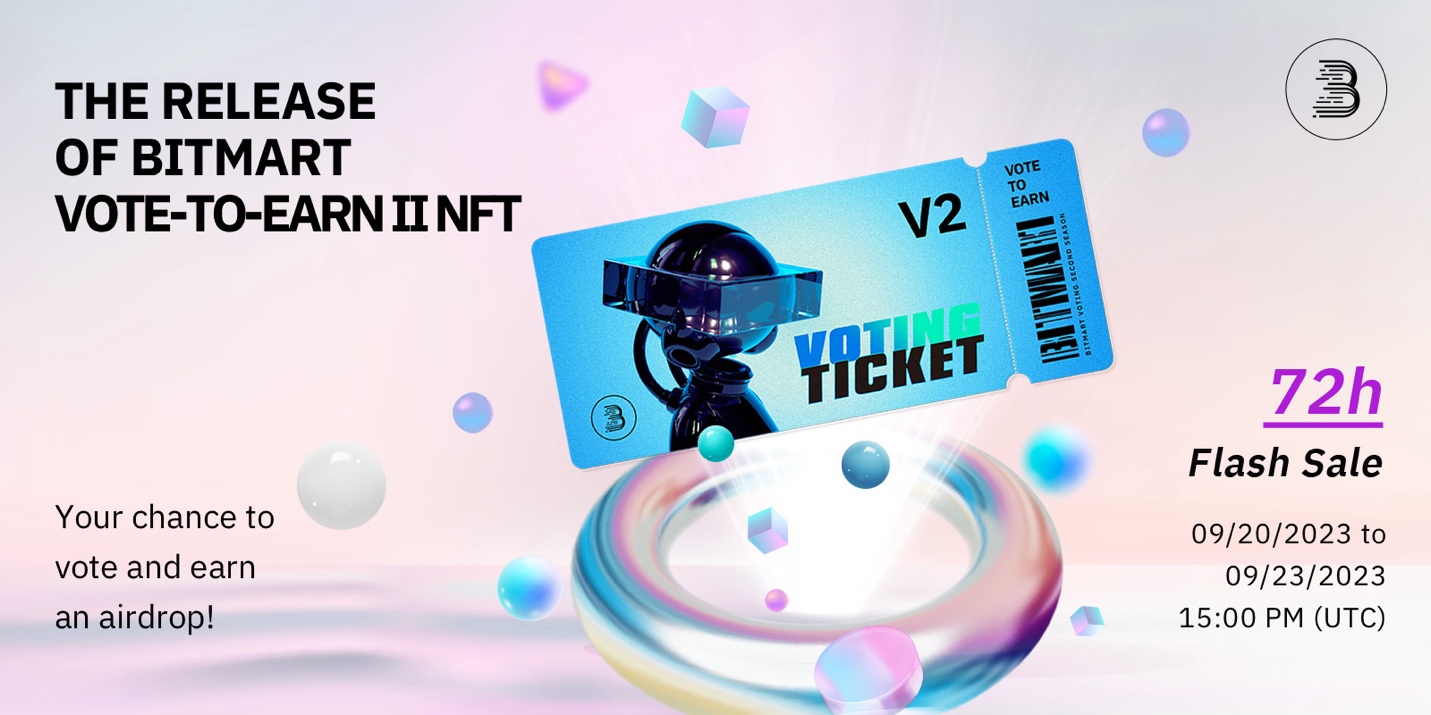 In the second installment, 'Vote to Earn II' NFT holders are empowered to exercise their voting rights, influencing the listing of projects in the forthcoming season on BitMart. This unique opportunity not only grants NFT holders a voice in determining the tokens available on the platform but also offers them exclusive access to project tokens or stablecoin airdrops for their active participation.
In a world increasingly fascinated by non-fungible tokens, BitMart is leading the charge in democratizing the exchange's offerings through NFT ownership. With Vote to Earn II, BitMart continues its commitment to empowering its users to further shape the ecosystem and support project they believe in.
Exclusive Pre-Sale for Version 1 Holders (9/20 - 9/23):
From September 20th to September 23rd, BitMart will open an exclusive pre-sale for Version 1 holders to purchase the Vote to Earn II NFT. This pre-sale will be hosted on the IEO launchpad, with a limited total supply of 500 pieces of unique NFTs available for purchase.
On September 25th, BitMart will release an additional 1000 pieces of Vote to Earn II NFTs to the NFT marketplace, making them available for purchase to anyone interested in owning these unique digital assets.
Additional Highlights:
Exclusive NFT Rewards: As a token of appreciation for their active participation, users can earn airdrops from projects that meet the voting threshold and are successfully listed on BitMart.
Enhanced User Experience: BitMart has revamped its platform to make it even more user-friendly, ensuring that users can easily cast their votes and track their FT rewards.
Transparency and Accountability: BitMart remains committed to providing transparency and accountability in its listing selection process.
NFT Education: BitMart will continue to educate its users about the world of NFTs and cryptocurrencies, offering resources, guides, and AMAs to help users navigate this exciting digital asset space.




"BitMart is excited to introduce Vote to Earn II NFT to our community," said Nickolas Hoog, VP of Marketing at BitMart. "We're dedicated to making crypto and NFTs more accessible and inclusive, and this initiative is a testament to that commitment. The exclusive pre-sale and marketplace release will provide unique opportunities for NFT enthusiasts and our Version 1 holders to be part of this exciting journey."

Vote to Earn NFT II demonstrates BitMart's unwavering dedication to user empowerment and inclusive growth. BitMart invites all users, whether they are experienced NFT enthusiasts or newcomers to the space, to participate in this exciting opportunity to influence the crypto landscape.




For more information about BitMart and "Vote to Earn NFT Round Two," please visit our announcement page.




About BitMart:

BitMart is the premier global digital asset trading platform. With millions of users worldwide and ranked among the top crypto exchanges on CoinGecko, it currently offers 1,000+ trading pairs with competitive trading fees. Constantly evolving and growing, BitMart is interested in crypto's potential to drive innovation and promote financial inclusion. To learn more about BitMart, visit their website, follow their Twitter, or join their Telegram for updates, news, and promotions. Be sure to download the BitMart App to easily trade your favorite crypto anytime, anywhere.




Follow BitMart for more updates:

Twitter | BitMart Research | Facebook | Telegram | TikTok | Instagram | Discord





marketing at bitmart.com