TMCnet News
Crusty Demons and BlockTrust Join Forces to Co-Create No Limits, an Extreme Sports Culture Platform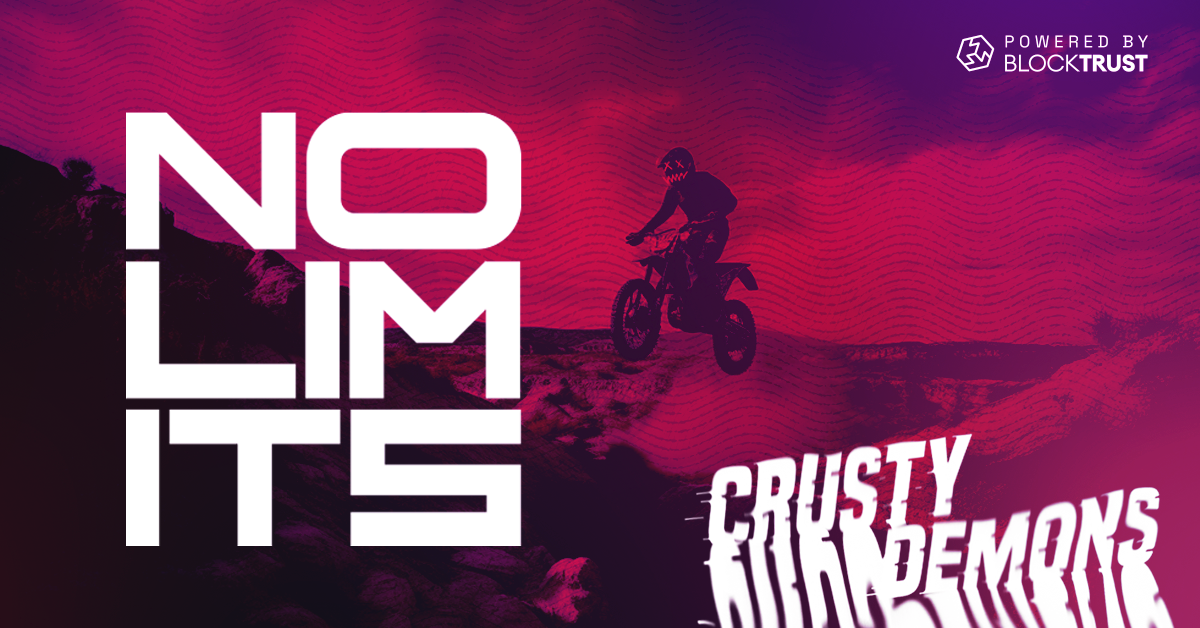 Los Angeles , Sept. 20, 2023 (GLOBE NEWSWIRE) --  Renowned extreme sports brand Crusty Demons partners with BlockTrust, a pioneer in Web Commerce solutions, to launch No Limits, a new web3 programme that empowers extreme sports enthusiasts to determine the cultural significance of their movie moments.
For decades, Crusty Demons has captivated audiences worldwide with their adrenaline-pumping freestyle motocross stunts and groundbreaking documentaries. From the trailblazing 1994 film "Crusty Demons of Dirt" by Fleshwound Films to over 20 subsequent films and an Emmy win for Best Action Sports Documentary, the Crusty Demons continue to inspire and push the boundaries of extreme sports.
No Limits transforms the way extreme sports enthusiasts engage with Crusty Demons movies by empowering them to shape the program's narrative. A core aspect of community involvement is the collaborative definition of Moments' rarity. Through the No Limits platform, dedicated fans cast their votes to determine which moments from Crusty Demons history hold the highest cultural significance.
"We created Crusty Demons films for our fans. No Limits gives them the power to vote on what they consider our mostepic or legendary moments, and own them as digital memorabilia" said Crusty Demons Founder Jon Freeman.
By co-creating culture on the blockchain, extreme sports fans, content creators, and the broader community benefit immensely. No Limits fosters inclusivity and ownership by actively engaging fans in the decision-making process. It democratises cultural recognition, giving enthusiasts a platform to shape the narrative of their beloved Crusty Demons movies.
Additionally, this collaboration presents exciting opportunities for content creators, filmmakers, and the wider web3 community by introducing a new way for fans to interact, collaborate, and monetize their contributions.
"Beyond a digital collectible project, No Limits represents a groundbreaking avenue for Crusty Demons and future brands on our platform to connect with their communities, empower them, and fuel the engine of Web3 Commerce" summarises Mike Haywood, Co-founder and CEO at BlockTrust.
No Limits is built on BlockTrust's ID3 infrastructure, a combined identity management, auth and wallet solution that offers a web2-like user experience. ID3 allows Crusty Demons to onboard their communities en masse with just a click, and gives them the tools to engage with each fan individually, across web2 and web3 ecommerce.
JOIN THE CREW: The Crusty Demons moments for the first era, 1995 to 1996, are currently on sale on http://nolimitscrew.xyz/.
About BlockTrust
BlockTrust is a leading Blockchain and web3 infrastructure group, providing comprehensive solutions for major brands. Through innovative technologies like Proof of Influence, Smart Escrow Contracts, and ID3, BlockTrust empowers brands to build loyal communities, generate new revenue streams, and protect customer data in a secure environment. By seamlessly integrating web3 technology into brand strategies, BlockTrust revolutionises the way brands engage with their customers in the evolving digital landscape.
Find out more on www.block-trust.io and www.id3wallet.io
Follow us on Twitter @BlockTrust_io and @joinID3.

For media inquiries, please contact:
Andrew Stedman, COO, BlockTrust - [email protected]
Stuart Coventry, Crusty Demons - [email protected]