TMCnet News
Linklogis' Smart-Bee Won Global SME Finance Awards
Beijing, China, Sept. 14, 2023 (GLOBE NEWSWIRE) -- From September 12 to September 14, 2023, the Global SME Finance Forum, initiated by the G20's Global Partnership for Financial Inclusion (GPFI) and managed by the International Finance Corporation (IFC), a member of the World Bank Group, was successfully held in Mumbai, India. During the forum, the 2023 Global SME Finance Awards was officially announced. Smart-Bee, a digital and intelligent SaaS platform of Linklogis, received Honorable Mention for Product Innovation of the Year, marking the second consecutive year that Linklogis has won the award. Letitia Chau, the vice chairman of Linklogis, was invited to the panel discussion of the forum.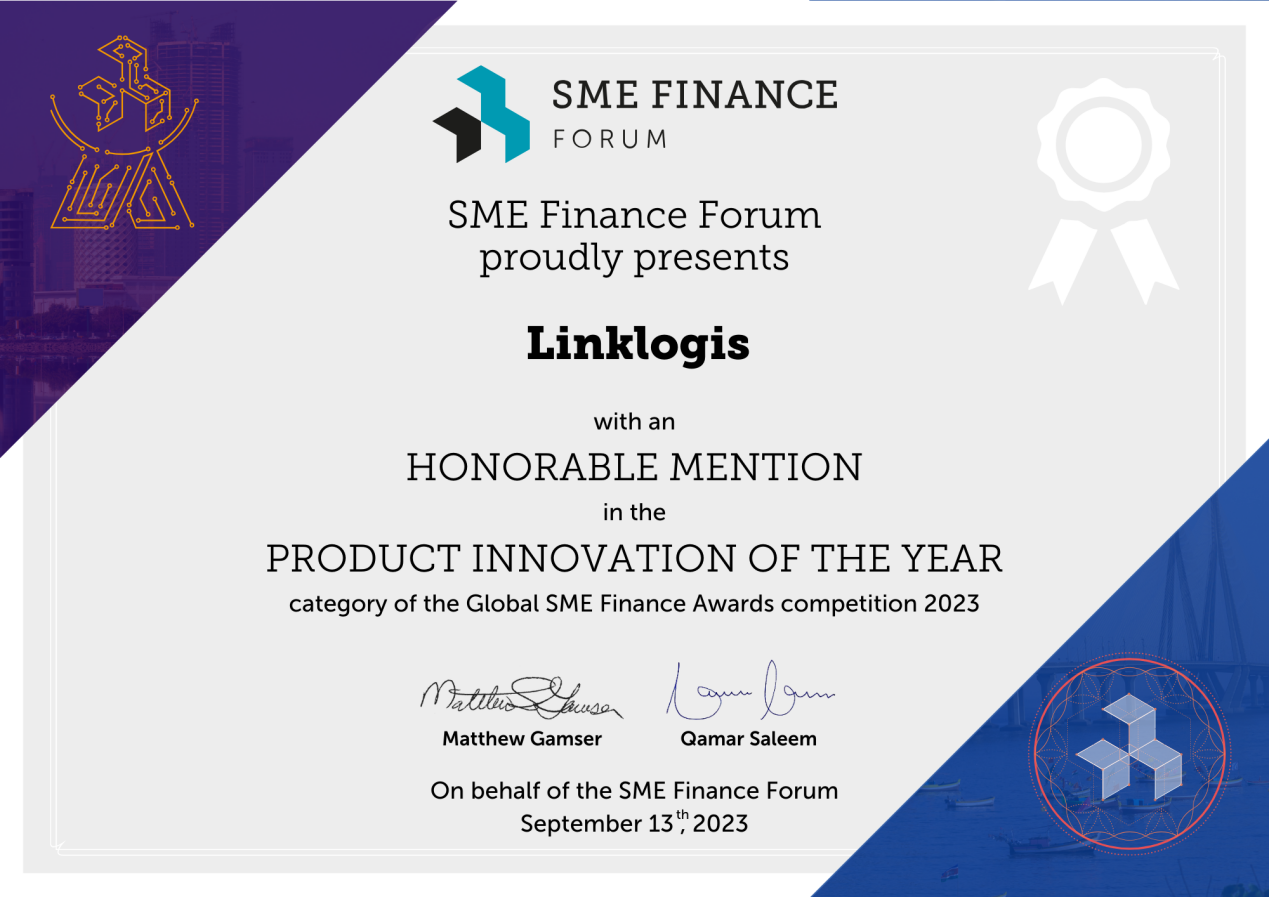 The Global SME Finance Awards was established in 2018, and has become the world's highest-level, most technically in-depth, most geographically diverse event focused solely on SME financing. It celebrates the outstanding achievements of financial institutions and fintech companies in delivering exceptional products and services to their SME clients, demonstrates good practices in global SME financing, and improves the financing channels for SMEs worldwid through exchange and learning. At present, the Global SME Finance Awards has become one of the most authoritative international awards in the field of SME financing.
As a digital ecological enterprise service platform of Linklogis that efficiently links the capital end and the asset end, Smart-Bee collaborates with financial institutions and anchor enterprises to build a new supply chain finance technology system through cutting-edge technologies such as artificial intelligence, blockchain, and big data, as well as mature service experiences, helping anchor enterprises and financial institutions in marketing, customer expansion, and private traffic operations, and jointly building a new ecosystem of industrial services. 
During the forum, Letitia Chau shared her views around the topic Case Studies: Digital Ecosystems for Supply Chain Finance. She said, "As an important hub connecting finance and the real economy, supply chain finance plays a vital role in ensuring connectivity, stabilizing supply chain, and alleviating difficulties for the real economy. Under the trend of industrial digitization, technologies such as big data, blockchain, and artificial intelligence are becoming increasingly mature, and have achieved scenario applications and upgrades in the financial field. It means that supply chain finance industry has entered the digital era, and should create a commercial service ecology for the entire chain through digital technology, facilitating the digital transformation of enterprises."
In the future, Linklogis will continue to utilize cutting-edge technological capabilities and mature service experiences to build a new supply chain finance technology system. By introducing multiple ecosystems, allocating financial resources to key areas and acute bottlenecks in the industrial development, and leveraging emerging technologies to meet various financial service needs of enterprises in the supply chain and industrial chain, Linklogis aims to provide high-quality financing experience for SMEs through customized solutions and effectively solve the problems of difficult financing and expensive financing.

Gloria Zhou
PR manager
Linklogis
zhoushiqian-at-linklogis.com