TMCnet News
Hibiki Run's IDO Is Imminent: Here's How To Get Ahead of the Pack
JERSEY CITY, NJ, Sept. 13, 2023 (GLOBE NEWSWIRE) --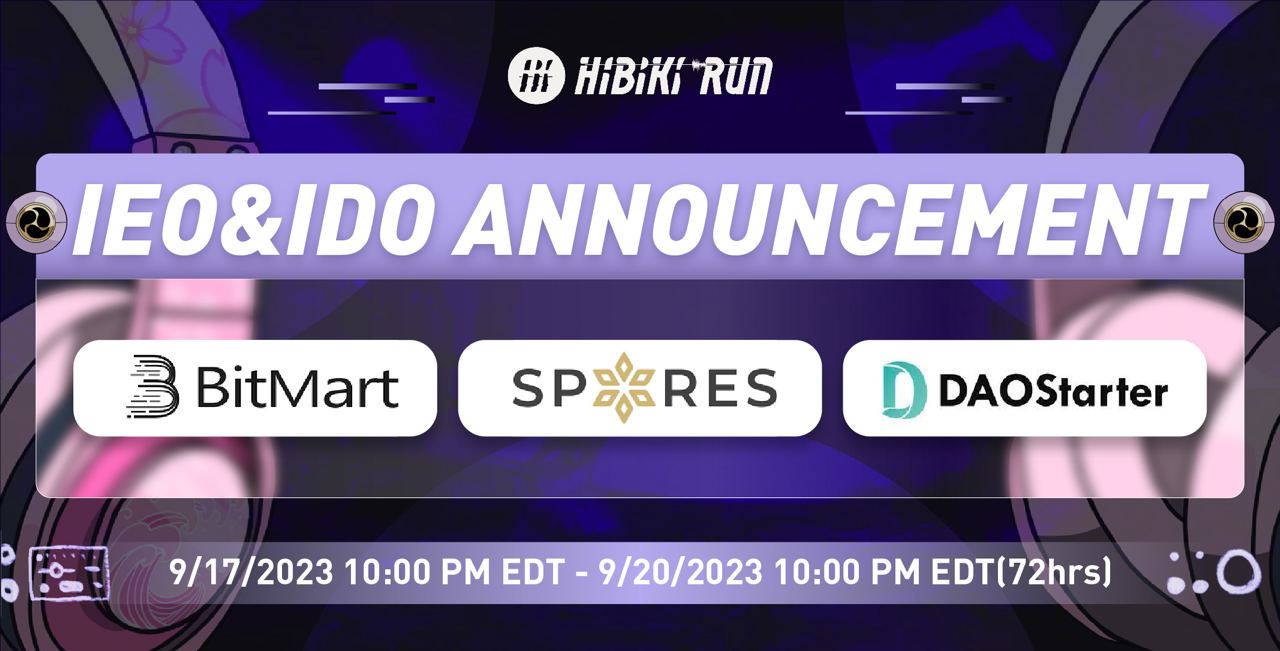 The digital realm is abuzz with chatter about Hibiki Run, a trailblazing digital music platform. This innovative venture fuses gamification with music and NFTs, introducing users to a vibrant experience where they can immerse themselves in diverse musical landscapes, earning exciting in-app items like headphones, gachapon, pouches, omamori, and tokens.
Since its inception, Hibiki Run has amassed over 100,000 registered users on its app, boasting a daily active user count of over 20,000. The in-house NFT ownership has skyrocketed, with over 100,000 general NFT holders and a special group of 7,000 holding rare NFTs. The user demographics are intriguing, with 40% hailing from Japan and 43% from Europe. Financially, Hibiki Run has already secured seed funding worth a million dollars from prominent institutional and individual investors like Synergis Capital, NEAR Foundation, BitMart, TKX Capital, String Capita, Gravity Venture Capital, Yi Lu (Co-founder of Weibo), AAG Ventures, and the FutureMoney Group.
On the physical front, Hibiki Run has made remarkable strides in Japan, having organized several 'Tomo Night' events in cities like Tokyo and Osaka. Furthermore, they've embarked on collaborative ventures, releasing NFT headphones in association with renowned Japanese artists like ????, MIYABI, and web3's most significant music platform, Audius.
Users have two modes to explore – the 'Listen' and the 'Workout' modes. The Listen mode rewards users with Pouches, which can either be traded for value or used to enhance headphones. In the Workout mode, users engage in physical activity while grooving to the music, with the system tracking their movement metrics. While the Pouches from the Listen mode serve as supplementary rewards, the core token earned in the Workout mode – $HUT – holds a premium value in the app.
As for the hot topic of the moment, Hibiki Run's utility token, $HUT, is set for its IEO/IDO launch on BitMart, DAO Starter, and Spores Network. The launch commences on September 18th, 2 A.M. UTC, spanning 72 hours, and concluding on September 21st, 2 A.M UTC. To gain priority access, users can partake in official events to secure a whitelist spot. The total tokens up for grabs amount to 60 million HUT, priced at $0.007 each.
Joining the Whitelist To get on board, users can:
Engage with the Hibiki Run app between August 19th (UTC 17:00) and September 13th (UTC 17:00).
Play the gacha machine in the app to gather five distinct types of Ham-biki POAP.
Collecting any of the Ham-biki POAPs guarantees a whitelist spot.
Those who gather all five types get a special gift.
Duplicate POAPs won't be rewarded.
There are 300 whitelist slots up for grabs – it's a first-come, first-serve affair.
Every collected Ham-biki POAP earns users 20 HUT and 5 HBK.
For an in-depth participation guide, including platform-specific steps for BitMart, DAOStarter, and Spores Network, users can refer to the official announcements on X.
Conclusively, Hibiki Run is a revolutionary idea that could redefine our music-listening habits and even reshape how artists distribute and monetize their creations. With its fresh approach and the blend of tech and music, it is undeniably a project worth keeping an eye on.

Leo Wang
leo at hibikirun.com