TMCnet News
New Beecham Research Report Validates LoRaWAN is the Leading LPWAN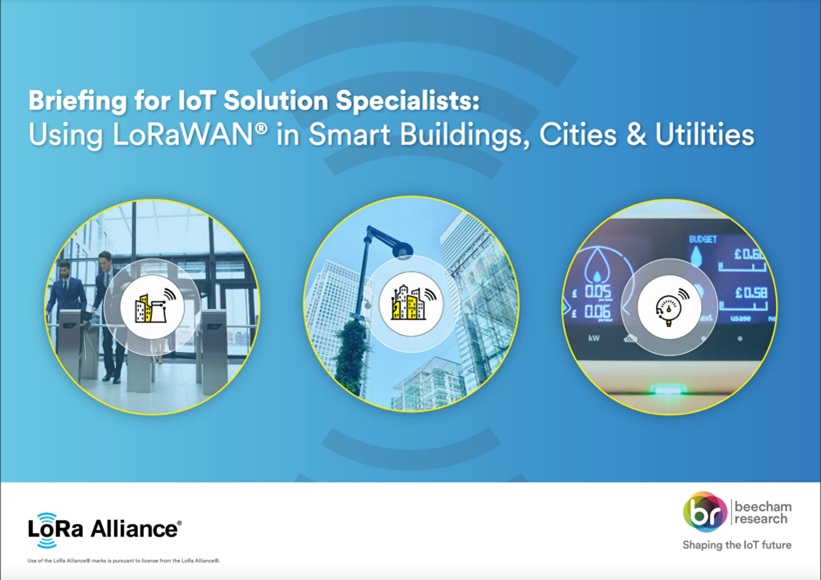 FREMONT, Calif., Sept. 13, 2023 (GLOBE NEWSWIRE) -- The LoRa Alliance®, the global association of companies backing the open LoRaWAN® standard for the internet of things (IoT) low-power wide-area networks (LPWANs), today highlights a new report titled Briefing for IoT Solution Specialists1 prepared by leading analyst firm Beecham Research, a specialist in the IoT market. The briefing indicates shipments of LoRa® chipsets – as used for LoRaWAN – surpasses other chip shipments by more than two to one, stating "LoRaWAN is already the leading low power wide area network (LPWAN) technology for IoT applications."

Beecham Research's related report, Primary Research of IoT Sectors, Conclusions & Recommendations2 report, notes that end-users are collaborating with IoT experts to efficiently deploy solutions and maximize ROI. The briefing states: "The influence of specialist solution providers/system integrators in the buying process is high. These already have strong connections in their sectors and are often treated as technical references for details on the elements of IoT solutions, including connectivity."
"Choosing the right connectivity technology for a use case is the most important decision an end-user will make. Some may not have the in-house expertise to compare requirements to technology options; solutions providers help them find the right-fit technology," said Donna Moore, Chairwoman and CEO of the LoRa Alliance. "Solutions providers analyze use cases, provide education on available technologies, and allow project managers—from ity planners to farmers to manufacturers—to envision the full scope of an IoT deployment. System integrators (SIs) bring those ideas to life by integrating IoT sensor data into a platform that consolidates data from numerous end-user platforms. Increasingly, we find that their support of end users and the strength of the LoRaWAN ecosystem come together to maintain LoRaWAN as the leading LPWAN in the marketplace."
Miroslaw Ryba, PhD and partner at EY leading IoT consulting services, states, "Working with numerous global companies in designing and implementing IoT solutions, when we address the connectivity aspects, we always show our clients the pros and cons of each available option, and LoRaWAN is one of the options being explored. An interesting observation is that in several cases, LoRaWAN proved to be the final choice, even though it was initially not considered by our client. It is particularly useful in cases where long-range connectivity needs to be established in conjunction with devices' low power consumption, while real-time low latency communication is not a key business requirement."
Bob Blanchard, Manager of Business Development, Americas, Klika, agrees: "The role of a system integrator is to write embedded application code enabling devices to send data to cloud or server databases. That expertise is only necessary during design and development which means you do not need to add head count to successfully architect and deploy a solution." End-users like Patrick Keaney, CEO of Subeca, Inc., agree: "Partnerships with system integrators, are invaluable to startups like Subeca. You get world-class talent that seamlessly integrates into your teams for critical workloads." 
The measure of an IoT deployment's success is how well it integrates with an end-user's existing technologies and infrastructure. If a company doesn't have a team to work on a massive deployment, "integrators can handle it," says Jaroslaw Mroczkowski, Strategy Advisor at Emitel, an infrastructure provider. He elaborated that integrators offer significant value by "making massive deployments run smoothly, integrating new and existing data streams into one dashboard, and enabling end-users to realize deployment benefits quickly, including ROI and sustainability goals."
As LoRaWAN adoption explodes, more and more companies want to hire professionals with strong experience. In response to this market need, the LoRa Alliance has created the LoRaWAN Accredited Professional Program, which validates LoRaWAN technical knowledge, and helps end-users hire people with the skill specifications they require.
The Briefing for IoT Solution Specialists by Beecham Research is available via free download at https://lpwaninfo.com.
About LoRa Alliance®
The LoRa Alliance® is an open, nonprofit association that has become one of the largest and fastest-growing alliances in the technology sector since its inception in 2015. Its members closely collaborate and share expertise to develop and promote the LoRaWAN® standard, the de facto global standard for secure, carrier-grade IoT LPWAN connectivity. LoRaWAN has the technical flexibility to address a broad range of fixed and mobile IoT applications and a robust LoRaWAN Certification program to guarantee that devices perform as specified. The LoRaWAN standard has been deployed by more than 170 major mobile network operators globally, with connectivity available worldwide. More information: lora-alliance.org
LoRa Alliance®, LoRaWAN® and LoRaWAN CertifiedCM are registered marks. All other trademarks are property of their respective owners. All company, product and service names used are for identification purposes only.
MEDIA CONTACT:
Kiterocket
Stephanie Quinn,
LoRa Alliance PR
+1 480 316-8370  
[email protected]
___________________
1 Beecham Research Briefing for IoT Solution Specialists.
2 Beecham Research Primary Research of IoT Sectors, Conclusions & Recommendations.
A photo accompanying this announcement is available at https://www.globenewswire.com/NewsRoom/AttachmentNg/00259775-389d-4f72-8acd-d5f20326c6ed