TMCnet News
TUSHY® photo gallery celebrates Canadians unclenching for climate change
TORONTO, June 01, 2023 (GLOBE NEWSWIRE) -- When Canadians think of heroes, they don't usually picture them as a**holes. But TUSHY® does. In fact, TUSHY believes that some of the cleanest bottoms are Canada's top heroes. That's why - in the lead up to World Environment Day on June 5th - the BIPOC & Canadian female-founded bidet brand is celebrating those who are taking a stand for our planet by subverting the traditional nude portrait and choosing to bare it all. The hole thing.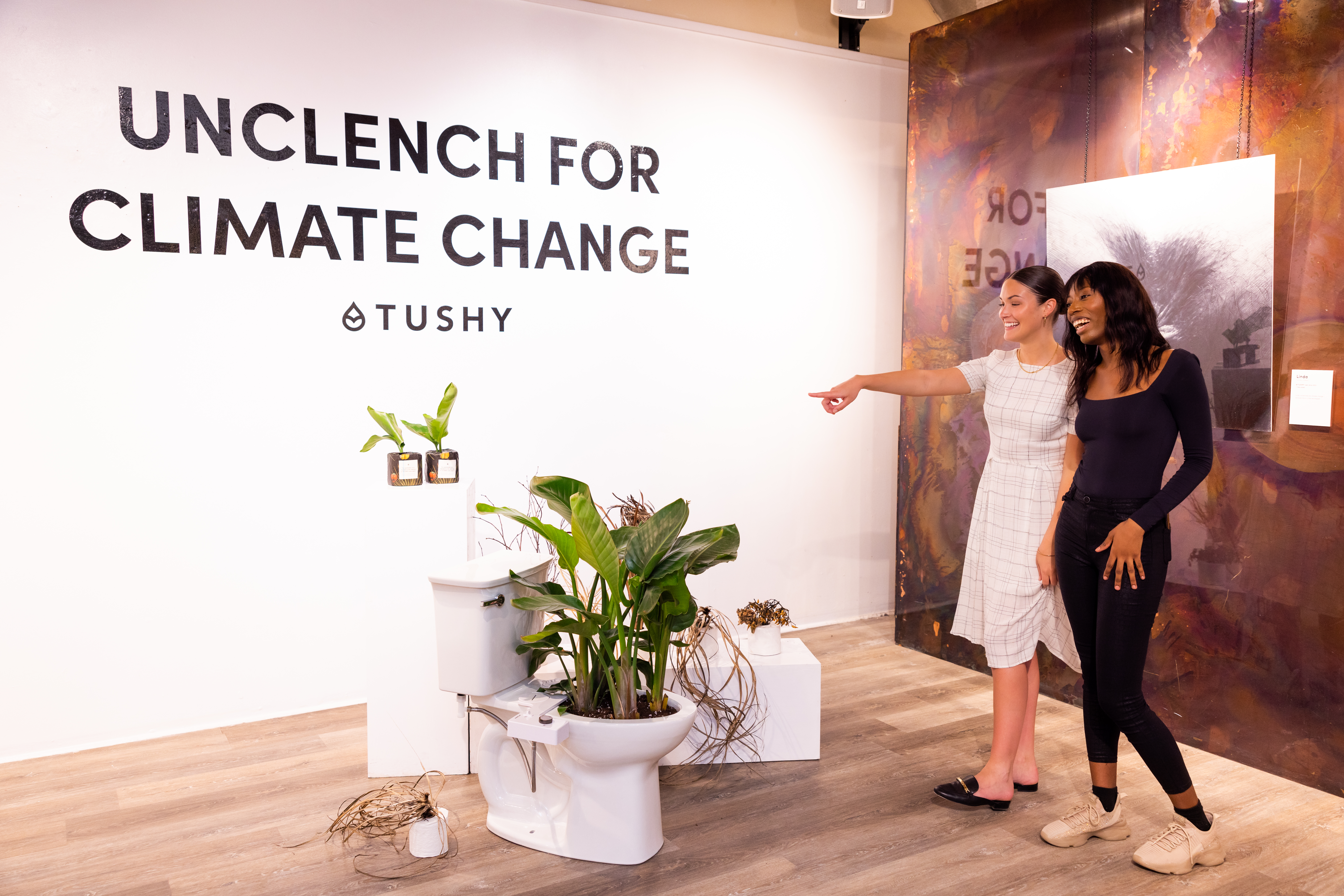 According to the Natural Resource Defense Council, big toilet paper is deforesting swaths of Canadian forests: 28 million acres since 1996. These forests are key to absorbing CO2 and combating climate change. Each roll of TP takes 0.7 kilograms of wood and 140 litres of water to produce. Bidet users use 80 per cent less toilet paper, helping to save the 384 trees that are required for one person's lifetime toilet paper supply.
So, while those who build houses for families in need use their hands, and climate demonstrators outside big corporations use their voices, TUSHY's unique new exhibit is celebrating the body part that TUSHY users are leveraging to make a difference: the butthole.
"Buttholes, much like the forests we deplete and the dumps we overflow, are usually kept out of sight and out of mind," explains Canadian entrepreneur and TUSHY founder, Miki Agrawal. "By confronting viewers with this uncomfortable metaphor for World Environment Day, we're exposing the damage we're oing to our planet in hopes that it will spur positive, everyday change. From this focused attention, we aim to slow, or better yet completely end, future chopping of trees in the Canadian Boreal Forest for the use of toilet paper."
'A**hole Activists' presented by TUSHY, is a free, one-day-only walk-in art exhibit, featuring twenty captivating butthole portraits of Canadian TUSHY users by world-renowned, Toronto-based photographer: Ara Coutts. The one-of-a-kind gallery will be hosted at Arta Gallery in Toronto's Distillery District and is open to the public Thursday, June 1st from 10am to 9pm ET. While every butt is welcome, due to rear nudity, attendees must be 18+, and viewer discretion is advised. Those who cannot make it to the gallery in person can view it virtually at tushyactivists.com.
"Throughout history, portraiture has captured those who've made a difference," shares Coutts. "With the prevalence of climate change today, it's an honour to help TUSHY photograph a generation of heroes who are making a positive difference through everyday actions and to create art with impact."
Since helping the environment is something everyone can get behind, TUSHY is encouraging all Canadians to become A**hole Activists.
Those in Canada and the U.S. can enter for a chance to win TUSHY's A**hole Activists contest by 11:59pm ET June 9th. One lucky V.I.Poo grand-prize winner will receive a round-trip plus accommodations to Toronto to have their butthole photographed in a private portrait session with Ara Coutts, plus a TUSHY Classic 3.0 bidet to get their bottom photo-ready.
People can use promo code BUTTSAVER40 at hellotushy.com until June 9th to save 40% on their next bidet purchase and begin helping the planet today.
Visit tushyactivists.com to learn more about TUSHY's A**hole Activists gallery and North American contest. Because it's time for us all to treat the planet like we treat our butts - committed to keeping it clean.
About TUSHY®
TUSHY is the trusted bathroom brand shifting culture around 'hole' body health and wellness. With over a million and a half clean-booty enthusiasts, TUSHY offers a variety of bathroom products, including attachable, and portable bidets, an electric bidet seat, a sustainable toilet brush, a toilet stool designed for the Louvre, and bamboo toilet paper, TUSHY helps people live cleaner, healthier, environmentally-friendly lives. TUSHY aims to forever change the way people clean their rears and they're on their way to doing it. www.hellotushy.com.
For media inquiries, please contact:
[email protected]

A photo accompanying this announcement is available at https://www.globenewswire.com/NewsRoom/AttachmentNg/b14fa0df-d040-455b-97ac-82815c554415