TMCnet News
Advancements in Multiomics: Automation of Hyperion Staining on NanoVIP Reduces Hands-on Time and Reagent Costs by 90%
Fremont, California, May 31, 2023 (GLOBE NEWSWIRE) -- Omicsveu, The Spatial Multiplex Multiomics Company, announced introduction of fully automated system for Hyperion's multiplex immunohistochemistry (IHC) protocols developed and validated in collaboration with Scientists  at The University of Sydney's prestigious Charles Perkins Centre, Sydney, Australia. 
Tissue multiplexing technology has changed proteomics profiling, allowing for the simultaneous detection of multiple protein markers from a single tissue section. However, current technologies for multiplex-proteomics involve manual steps that are time-consuming, labor-intensive, expensive, and inconsistent. 
NanoVIP - an automated, slide-based staining system - by Omicsveu using manufacturers supplied protocols and reagents, reduced hands-on time?of the Hyperion protocol to less than 20 minutes and?reagent costs by 80% - as it only uses 25µL of antibody for a single sample. Further NanoVIP plug & play system doesn't require highly skilled operators to get optimum results. Results are summarized in the table below. 
Adrian Smith, Technical Director at Sydney Cytometry (Centenary Institute and The University of Sydney), was so impressed with NanoVIP for the automated preparation of tissue sample slides. "We are very impressed with the instrument (and the support!), and I'm excited to see what our researchers at Sydney Cytometry will do with it!"??said Dr. Smith.  
Results are summarized in the table below.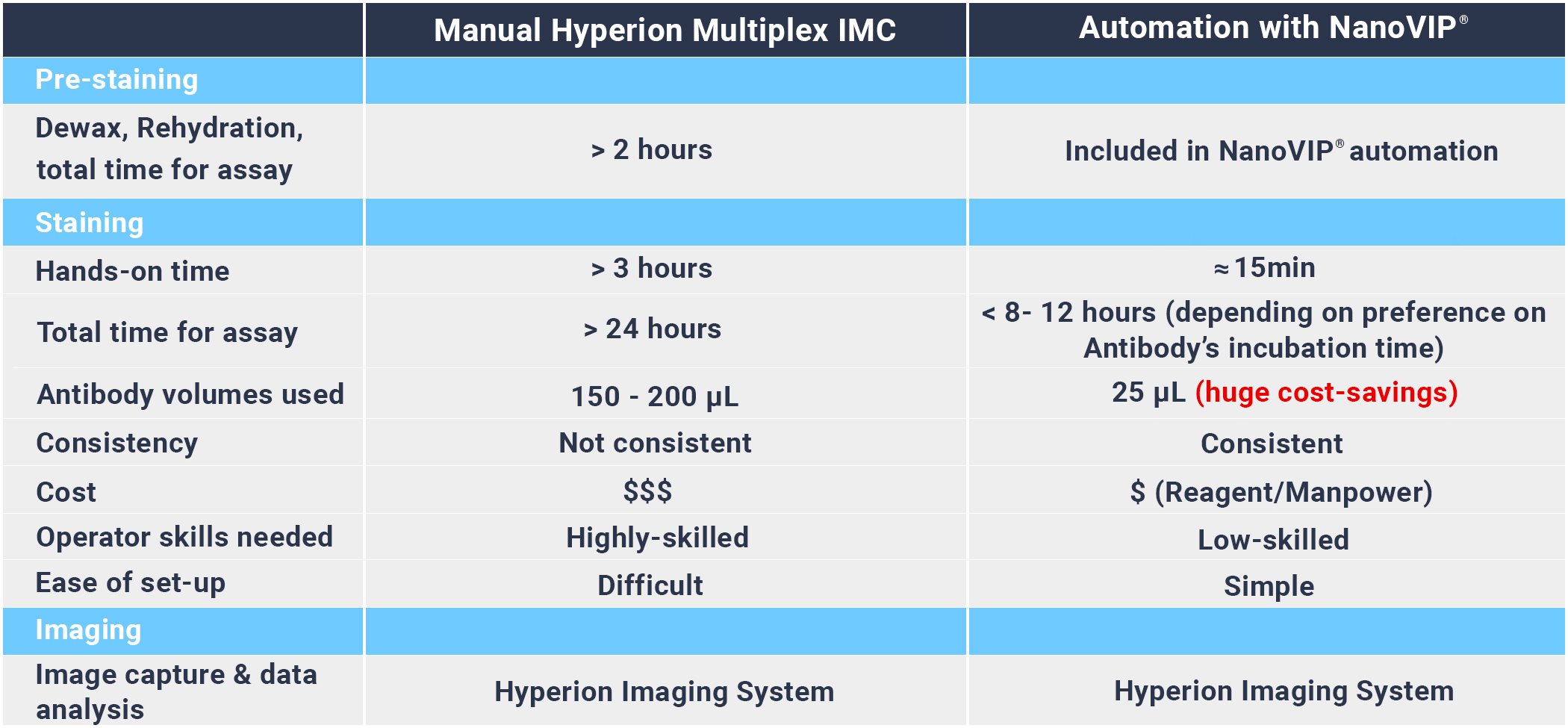 About Omicsveu
Omicsveu is a special-purpose spinoff of BioGenex, designs, develops, and commercializes, fully automated plug & play, slide-staining systems. Our innovative technologies are affordable and accessible, to help accelerate developments of new diagnostics and therapeutics leading to improved disease outcome. Our systems incorporate easy to use innovative automation, ready-to-use reagents, and optimized protocols, generating reliable, consistent, and reproducible results. For more information, please visit our website at www.omicsveu.com, or connect with us on LinkedIn and Twitter. 

Contact: 

Email: [email protected]