TMCnet News
Swapin Wins People's Choice Award at MasterCard Lighthouse FINITIV Spring 2023 Program
Tallinn, Estonia, May 30, 2023 (GLOBE NEWSWIRE) -- Swapin, a leading fintech startup bridging the gap between Web3 and Web2 worlds, is proud to announce its notable achievement at the MasterCard Lighthouse FINITIV Spring 2023 Program. The company has been honored with the prestigious People's Choice Award, a recognition that underscores MasterCard's acknowledgment of Swapin as a promising startup driving crypto adoption in the traditional finance landscape.

Speaking on this, Evald-Hannes Kree, the CEO and Founder of Swapin said "We are incredibly proud to have been recognized with the People's Choice Award at the MasterCard Lighthouse FINITIV Spring 2023 Program. This is a testament to the hard work of our team and the support of our community. We believe that our innovative solutions are making a real difference in bridging the gap between crypto and traditional finance. We are excited about the future and the role Swapin will play in driving mass crypto adoption,"
The MasterCard Lighthouse FINITIV program, now in its 10th edition, is a prestigious platform that brings together startups, banks, investors, and advisors to scale innovative ideas. As a platform that has facilitated multiple partnerships and supported over 150 fintech platforms since its inception in 2018, the program aims to showcase and support the most promising startups and scaleups in the fintech industry, especially during economically challenging times.
This year, Swapin was handpicked alongside 14 other outstanding fintech startups from the Nordics and Baltics to participate in the program.
Swapin's participation in the program is a significant step forward for crypto adoption by the traditional finance system. The company, with its suite of solutions, is making significant strides in bridging the gap between crypto and traditional banking. Their SwapinPay feature provides a seamless platform for users to pay EUR and GBP invoices with crypto or transfer money to friends and family bank accounts using crypto.
For merchants, SwapinCollect offers an easy way to start accepting crypto without any integrations needed, enabling them to receive instant EUR or GBP payments on their bank accounts. These solutions collectively underscore Swapin's commitment to making crypto as accessible and usable as any other currency.
During the program, Swapin had the opportunity to engage in exciting discussions with industry leaders such as MasterCard, SwedBank, AWS, Fintech Mundi, and more. The discussions revolved around the future of connecting Web3 finances to the Web2 ecosystem and the challenges of dealing with crypto for banks. Notably, Swapin holds an Estonian VASP license that is already compliant with the upcoming regulation on markets in crypto-assets (MiCA), positioning the company well for the transition towards more crypto-friendly banking operations.
As part of the program, Swapin will continue to engage in workshops dedicated to potential partnerships, investor relations, product, and marketing advice. The company is excited about the opportunities this program presents for networking, collaboration, and growth in the financial technology industry. Swapin's participation in the MasterCard Lighthouse FINITIV 2023 Spring Program, along with its other initiatives, is a key part of their mission to make crypto as accessible as any other currency.
About Swapin
Swapin is an EU-licensed, regulated crypto-to-fiat payment processing company offering a comprehensive suite of solutions aimed at bridging the gap between digital assets and traditional banking. Swapin's non-custodial approach ensures users maintain control over their assets while benefiting from seamless crypto-to-fiat conversions.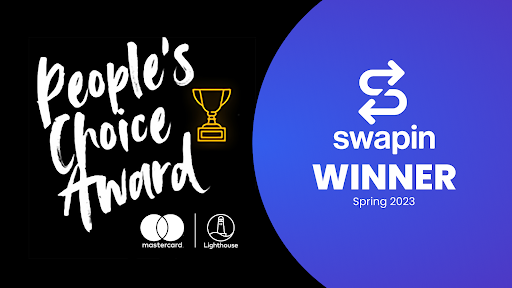 hello-at-swapin.com