TMCnet News
Oscarswap.com Is Here: The Future of DEXs and Yield Farming on Arbitrum
Los Angeles, CA, May 29, 2023 (GLOBE NEWSWIRE) -- With its groundbreaking features and strategic advantages, Oscarswap has much to offer to the investing community. The Fair Launch will be live on Pinksale, and users can earn real cryptocurrencies generated by the protocol.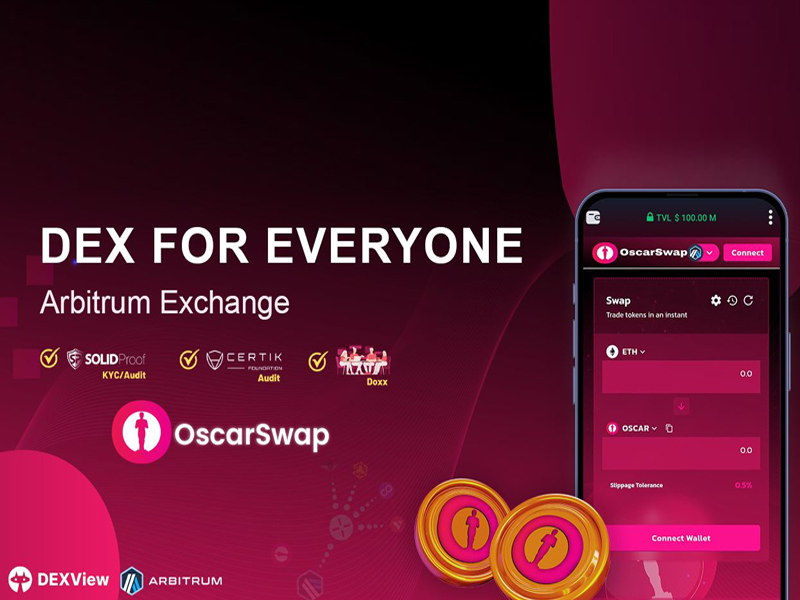 Oscarswap's Presale Details
Oscarswap's presale will be live on Pinksale on 2023.05.30 at 16:00 (UTC). The soft cap for this event is 50 ETH, and the official listing price of the $OSCAR token is $0.016. 
The project's team explained that the token has a projected reach of $1 based on its features and functions. 60% of funds collected during the presale will go towards providing liquidity. In comparison, 30% will go to the Treasury and Insurance fund. 
This will allow the team to protect community interests through insurance pools. Marketing efforts for great exposure and developing upcoming features are also part of the team's master plan.
The operation will likely attract immense attention from investors in the cryptocurrency industry. From everyday crypto enthusiasts to institutional investors, potential buyers worldwide are free to participate in this exclusive event.
Which Features Does Oscarswap Introduce?
Oscar Swap is a DEX introducing several innovative features to the crypto world.
First, it is worth discussing the project's verified profit return. Users can earn a portion of the protocol-generated revenue, making Oscar Swap the first DEX to offer such an opportunity. This feature is possible thanks to the $OSCAR token. $OSCAR has significant utility and allows users to generate liquid cryptocurrencies from the platform.
The project also offers wallet-friendly fees. In fact, the team leverages Arbitrum L2 technology to reduce network costs and provide users with the lowest swap fees. Furthermore, Oscar Swap has implemented a bot-resistant system that ensures consistent pricing across all pairs.
The team behind the project has also made the safety and security of user assets its top priority. The DEX underwent thorough audits before launch, and its smart contracts use multi-signature systems. Furthermore, a 24-hour timelock allows users to see all upcoming blockchain changes.
Finally, Oscar Swap also introduces cross-chain L2 bridge and farming/staking pools, which reward in three different currencies. In order to learn more about its features, everyone interested can refer to the project's documentation.
Entering a Competitive Market with a Set of Strategic Advantages
While entering a competitive market, Oscarswap offers a set of strategic advantages. This is particularly clear from a comparison with, for instance, Arbidex.
Oscarswap is a newer project compared to Arbidex, with a few strategic advantages. Firstly, Oscarswap's yield farming offers users up to 2-3X more returns than its competitor. This is possible because Oscarswap has ample room for advancement and versatility. 
This is a major advantage that ensures users can maximize their yields. Competitors such as Arbidex have a saturated platform that decreases potential returns for their users.
In terms of user-friendliness, Oscarswap has a mobile app that allows users to easily access and use its features. Arbidex does not have a mobile app, which can be an inconvenience for many users. 
Furthermore, OscarSwap offers a range of services, such as asset swapping, yield farming, NFT trading, and bridging assets between networks. It also emphasizes automatic token whitelisting, simplified steps for bridging, and a seamless network transition for a user-friendly experience. 
In contrast, Arbidex integrates with various exchanges and aggregates liquidity. The operation serves to enable users to exploit price discrepancies and execute trades at favorable rates.
Oscarswap also prioritizes security and safety. The platform's smart contract passed the CertiK's and SolidProof's audits with KYC validation to ensure community confidence in the team. 
In addition to this, it implements a governance protocol where users can vote on important decisions. Among these, it's possible to mention token allocation, feature introduction, reward allocation, and vesting periods. Arbidex, however, passed a standard audit and did not have governance as a core feature.
Oscarswap's features can even compete with large DEX platforms such as Uniswap and Sushiswap. The new platform offers its users the revolutionary opportunity to earn 100% of the revenue generated by the protocol. 
Uniswap and Sushuswap do not provide direct benefits in return for transaction fees. Oscarswap, instead, allows users to earn real, liquid cryptocurrencies generated by the protocol. This major advantage sets it apart from its competitors in attracting traders looking to maximize their returns.
About Oscarswap
Oscarswap is a decentralized exchange (DEX) that utilizes automated market-maker (AMM) technology. It offers users the lowest cryptocurrency switching costs and very profitable yield farming payouts in ETH, OSCAR/USDT. Compounding staking incentives for passive income generation represent another appealing feature for the crypto community.
This innovative approach grants trading speeds outpacing traditional decentralized platforms while rivaling their centralized counterparts. Anyone wishing to know more about Oscarswap can visit its website and all the social media pages below.
Social Media Links: 

WEBSITE: https://oscarswap.com  
Mobile App: https://play.google.com/store/apps/details?id=com.oscarswap 
DEX: https://app.oscarswap.com 
AUDIT: https://oscarswap.com/audit.pdf 
CertiK AUDIT: https://skynet.certik.com/projects/oscarswap 
KYC: https://github.com/solidproof/projects/tree/main/OscarSwap  
TWITTER: https://twitter.com/Oscar_Swap 
TELEGRAM: http://t.me/Oscar_Swap 
GITBOOK: https://oscarswap-official.gitbook.io/oscarswap-official/ 
MEDIUM: https://medium.com/@oscarswap  
REDDIT : https://www.reddit.com/r/Oscar_swap 
GITHUB: https://github.com/Oscarswap 
INSTAGRAM: https://www.instagram.com/oscar_swap/ 
FACEBOOK: https://www.facebook.com/Oscarswap 

Manuel Vazquez
mannyv-at-oscarswap.com