TMCnet News
How is Novozymes OneHealth leading the probiotic market segment in FIC2023?
Shanghai, March 16, 2023 (GLOBE NEWSWIRE) -- The 26th Food Ingredients China (FIC) kicked off on March 15 in Shanghai. Novozymes OneHealth participated in the exhibition with the theme of "Exploration and Discovery" and discuss the future trend of food industry! This year's show was full of highlights, as Novozymes OneHealth (hereinafter referred to as OneHealth) presented a feast of technology in digital form and interactive experience to the attendees, which fully demonstrates OneHealth's hard power to help consumers face health challenges with technology.

With professional empowerment, enhance brand influence in the industry
With the purpose of promoting the prosperous development of big health and providing consumers with better health and nutrition products, OneHealth and Sanofi Consumer Healthcare China decided to join hands in a strategic partnership to incubate big health products and promote the technological innovation, production, sales and marketing of probiotic health products in China. Ms. Chen Xi, general manager of Sanofi Consumer Healthcare China, said:"We hope to use Sanofi's strong medical and pharmaceutical R&D technology to create quality products for Chinese consumers in a consumer product way, which is also in line with the philosophy that OneHealth insists on. It solves consumers' health problems with scientifically proven and consumer needs as the focus. We are excited about this alliance and look forward to working with OneHealth in the future to achieve success in the field of human health."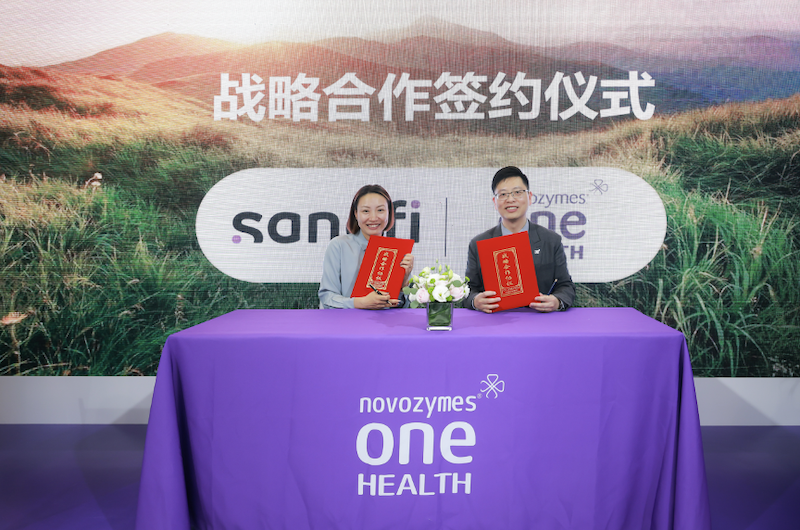 (left)Sanofi Consumer Healthcare China -Chen Xi  (right)Novozymes OneHealth China General Manager-Cheng Xian
In addition to the strong alliance to expand the brand influence, OneHealth also invited a group of heavyweight experts in the field to explore the wonderful world of microorganisms and the market demand and solutions of the probiotics segment.
Professor Zhao Jianxin, Director of Food Biotechnology Research Center in Jiangnan University's said at the show that Chinese consumers' perceptions have changed from being well fed and clothed to being health conscious, which has contributed to the development of the overall health industry. Jiangnan University is also aware of the changes in the industry. Through years of experience in food microbiology and nearly 20-year extension to the field of probiotics research, we catch the opportunity to carry out research cooperation with Novozymes. We look forward to working with leading companies to standardize our research results and bring better products to consumers, as well as working with OneHealt to reach even higher heights.
Guo Xinguang, Vice President of the China National Research Institute of Food and Fermentation Industries, who is also very influential in the industry, said: " At present, there is no relatively perfect standard system for probiotic products from R&D, production to promotion in China, so we have the same expectation as Jiangnan University, moreover, we hope to work with academic and industry colleagues to establish a series of processes from scientific research, standardization to regulations for probiotic products, which helps to bring better products to consumers for sustainable industry development.
As a leader in the probiotic segment, OneHealth also brought several important products to the event, including BioFresh4+TM for fresh breath, BioFreshTMClean for plaque elimination, ProbioBrainTM for stress relief and sleep, IBmeTM for IBS relief, as well as SmartGuardTM for eliminating harmful heavy metals from the body except for PylopassTM.
Focus on market demand and deepen the anti-pylori track
The application of probiotics in various segments including "anti-pylori". Pylopass is one of the first strains to be commercialized with a large clinical population. It is also the early one included in professional treatment guidelines and used in the countries all over the world. OneHealth also cooperates with SmartPath to understand the real voice of consumers in a more diversified way. Ms. Zou Mingjun, Senior Data Specialist of Shanghai SmartPath said at the conference: China's retail market size achieved 44 trillion in 2022, of which, 39.3% was made online. Probiotics have more and more growth, the scale is very impressive. For the online probiotics market, probiotics achieved a high growth of 53% for the year 2022 and Pylopass has a rapid growth.
In addition to grasping industry trends, consumer insights are particularly important to the success or failure of products. OneHealth has always been committed to thorough insights into consumer pain points and needs in order to bring targeted solutions to the market and continue to lead the probiotic market segment.
 OneHealth is precisely rooted in the market and has established partnerships with many well-known brands. "Wonderlab have always adhered to a scientifically proven attitude to research and innovation. H. pylori is not easy to remove and is prone to drug resistance during treatment, so we need to actively look for clinically proven scientific solutions and we chose OneHealth's Pylopass ingredients." said Mr. Van Rooy, senior R&D scientist of Wonderlab at the conference.
OneHealth actively provides natural and healthy diversified products for consumers. At the meeting, Novozymes OneHealth invited Mr. Qiu Yuan, Deputy General Manager of COSMAX to introduce the demand of Chinese health care products for product formulation and dosage form innovation. He mentioned the determination to deepen cooperation with OneHealth. COSMAX's factories are located in Korea, the United States, Australia and China, and we can produce solid beverages such as tablet candy. The jelly that is known to everyone has nutritional jelly and the jelly has good water locking, so that it is not easy to stain clothes when consumers tear it open and eat it. At the same time, the flavor is not affected, so it is loved by consumers.
Continue high growth and pioneer the new blue ocean in Chinese market
Novozymes Group achieved a strong performance in a volatile market environment in 2022. Organic sales grew by 9% for the year and we are confident that we will achieve 4-7% growth in 2023. The performance are market are of equal importance. While focusing on achievements, it is worthwhile for the OneHealth strategy team and the entire probiotic industry to think about how to bring the OneHealth brand and products deeper into the market and do a better job in the probiotic segment. The leaders of OneHealth Global and China also express that:
OneHealth General Manager-Ulrich Irgens said: "we have made China an important segment of OneHealth's strategy, not only because of the size and rapid development of the Chinese market, but also because we see China at the forefront of innovation, the high level of innovation and speed of our partners, as well as the high acceptance of Chinese consumers and doctors (for product)"
OneHealth China General Manager-Cheng Xian said: "we are especially grateful to our industry colleagues and partners for their help and recognition, which has enabled Novozymes OneHealth to enter such a vast and vibrant market as China and take a place in the relevant market segments."
Achieve new breakthroughs and capture the 100 billion health windfall
With a firm grasp on the 100 billion probiotic health market, OneHealth will continue to make new breakthroughs in different segments and explore scientifically proven biotech solutions to help Chinese consumers address health challenges such as intestinal discomfort, negative emotions and sleep disturbances brought about by modern lifestyles.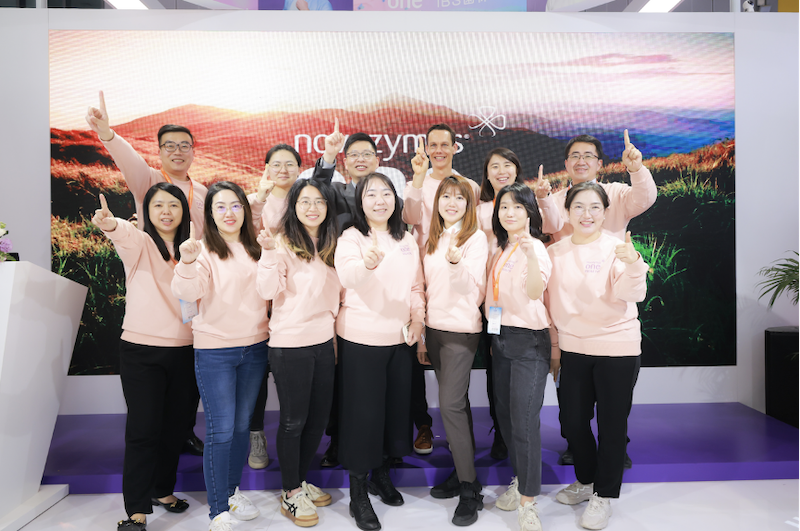 Novozymes OneHealth China team
The 26th China International Food Additives and Ingredients Expo is a gathering of authoritative industry insights and technological innovations, providing strong momentum for the industry's development. OneHealth will also continue to innovate and energize the industry, as well as explore scientifically proven biotechnology solutions in different segments to address the health challenges of modern lifestyles and help consumers have a healthier and better life.

Tim Brown

[email protected]