TMCnet News
Join the Revolution: Invest in STARSTAKING for 25% APY and the Chance to Win Big with the DeFi Lottery Program
Singapore, Feb. 07, 2023 (GLOBE NEWSWIRE) -- We are excited to announce the launch of STARSTAKING, a new DeFi platform that offers innovative staking solutions and rewards in KRED, the native token of JEDSTAR Gaming's ecosystem. With up to 25% annual percentage yield (APY), one of the highest in the market, STARSTAKING sets itself apart as a unique investment opportunity.

JEDSTAR Gaming's ecosystem consists of a hyper casual play-and earn gaming platform with over 100, a charge-to-earn mobile and PC app where gamers get to win gaming assets from their favorite games such as PUBG or Valorant, a mobile game, an NFT marketplace, and a thriving gaming community of over 850,000 active members – one of the fastest growing gaming community!

The potential for passive income through STARSTAKING is massive, as the JED experienced a 10,000x increase during the bull run and has much more room for further growth.

To maintain stability within its DeFi program, JEDSTAR Gaming has introduced a "seasonal system" that limits the number of participants and ensures long-term sustainability. So don't miss the chance to secure your spot and reap the rewards.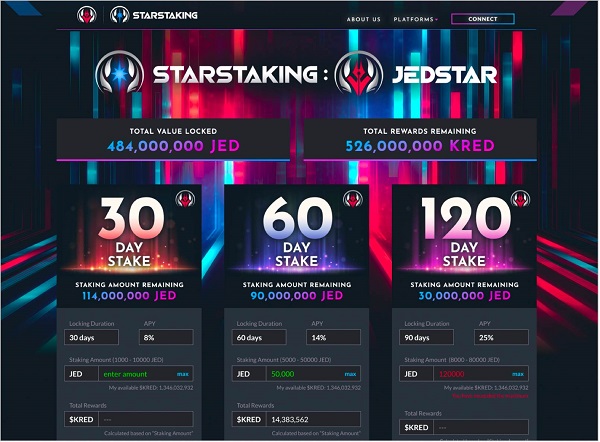 "We faced the challenges of the crypto winter head-on and focused on what truly matters - building a strong foundation for our community. During this time, we invested in growing our gaming community to over 850,000 members and strengthening our ecosystem to offer innovative and exciting experiences. The result is JEDSTAR Gaming, where the industries of gaming and cryptocurrency collide to create a game-changing platform. Our commitment to providing the best for our community is evident in our thriving ecosystem, and we can't wait to see what the future holds for us." - Josh Gier, CEO of JEDSTAR Gaming.


In addition to staking rewards, JEDSTAR Gaming's ecosystem offers its community members access to exclusive benefits such as JED Membership tiers and upcoming utilities that will be revealed in in Q2 2023. The company is also one of the few crypto projects that holds a Gaming License, allowing us to create lottery and casino-related games. Enabling us also to create one of the first DeFi lottery program, where you will have the chance to win the KRED or JED Jackpots starting at the equivalent of US$50,000 and increasing as ticket purchases rise. Leveraging our casino licenses, we can provide additional rewards to our stakers and liquidity providers, adding to the already substantial passive income potential.

Don't miss out on the opportunity to participate in this one-of-a-kind platform and reap the benefits of being a part of JEDSTAR Gaming's ecosystem. Sign up for STARSTAKING today and join the community of investors who are taking advantage of the massive potential for passive income and exciting lottery rewards.

Find out more about JEDSTAR Gaming: https;//www.jedstar.com
Join the active community: https://t.me/JedstarOfficial


Contact Details:
Contact Name: Josh Gier
Email: josh(at)jedstar.com
Website: https://jedstar.com/