TMCnet News
ManaCoin Token ($MNC) Launches High-Yield Pools, Empowering Users to Maximize Returns
NAGOYA, JAPAN, Oct. 03, 2023 (GLOBE NEWSWIRE) -- ManaCoin Token ($MNC), a prominent ERC20 token known for its hyper-deflationary nature, is proud to announce the unveiling of High-Yield Pools, a groundbreaking feature that empowers users to maximize their returns on investment. This strategic development marks a significant milestone in the world of decentralized finance (DeFi) and underscores ManaCoin's commitment to providing value and opportunities to its community.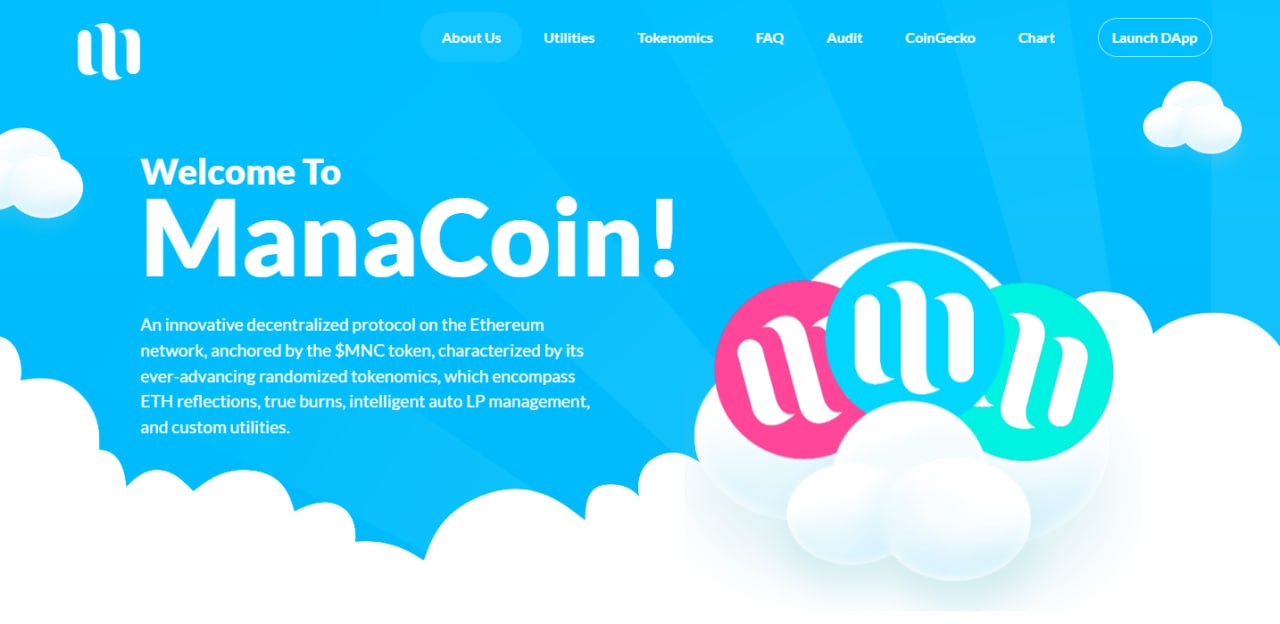 High-Yield Pools: Empowering Your Investment Potential

ManaCoin's commitment to innovation and community empowerment takes another leap forward with the introduction of High-Yield Pools. These pools are designed to provide ManaCoin users with a lucrative avenue to optimize their investment strategies and unlock substantial rewards.

Why High-Yield Pools Matter
High-Yield Pools within the ManaCoin ecosystem hold several key advantages:

Maximized Returns: High-Yield Pools offer users the potential to earn substantial returns on their $MNC investments, outperforming traditional investment vehicles.


Community-Centric: ManaCoin's High-Yield Pools are designed with the community in mind, ensuring that participants have the opportunity to benefit from the platform's success.


Diverse Participation: Whether you're a seasoned DeFi enthusiast or new to the space, High-Yield Pools are accessible to all, fostering an inclusive and diverse user base.


Sustainable Growth: The ManaCoin ecosystem prioritizes sustainability and long-term value creation, aligning with the interests of its loyal community members.
How to Participate
Participating in High-Yield Pools is straightforward and accessible to all ManaCoin users. You can stake your $MNC tokens or a combination of $MNC and LP tokens, whether obtained through the dynamic tax mechanism or by adding your LP tokens. This flexibility allows you to tailor your investment strategy to your specific goals and risk tolerance

Yield Converter: Unlocking DeFi Opportunities
In addition to the High-Yield Pools, ManaCoin ($MNC) proudly introduces the Yield Converter, a powerful tool designed to unlock even more opportunities within the decentralized finance (DeFi) space. The Yield Converter complements the ManaCoin ecosystem by offering the following features:

Stake and Earn Daily Rewards: With the Yield Converter, users can stake any amount of their preferred blockchain assets and earn daily staking rewards. This feature empowers users to grow their assets while actively participating in the DeFi ecosystem.

Mint Your ManaCoin Assets: By staking, users mint Yield Converter Assets pegged 1:1 to the blockchain assets they stake. These assets, including sMNC, wMNC, and more, represent the value of the staked assets. This minting process provides users with versatile tokens to explore various DeFi opportunities.

Stable APR of 7.25%: Keep your Yield Converter Assets within the ecosstem and other DeFis to receive a stable Annual Percentage Rate (APR) of 7.25%. This ensures that your assets continue to work for you and generate consistent returns.

Maximize Your Yield: The minted ManaCoin Assets (e.g., sMNC, wMNC) can be utilized across the Yield Converter Ecosystem for a range of activities, including staking, farming, trading, swapping, lending, borrowing, and more. This versatility allows users to tailor their DeFi strategies for maximum yield.

ManaCoin Dex (ManaDex):Elevating Your Trading Experience
ManaDex is not just another decentralized exchange; it's a comprehensive solution designed to provide users with unmatched access to liquidity across multiple blockchains. Here's what makes ManaDex stand out:

Native Trading Engine: ManaDex combines a native trading engine with a consolidated order book, enhancing the trading experience. This unique approach offers users a holistic view of the market, enabling them to make informed trading decisions.

Advanced Trading Options: ManaDex empowers users with advanced trading options, including limit orders, trailing orders, stop-loss orders, and iceberg orders. The platform's flexibility allows for additional options to be incorporated through community governance, ensuring it evolves to meet the diverse needs of its users.

$MNC Discounts: Holders of $MNC tokens enjoy fee discounts on various order types, such as limit, trailing, stop-loss, and iceberg orders. This incentive rewards loyal community members and encourages broader adoption of the platform.

Governance and Staking Rewards: $MNC stakers actively participate in governance decisions, helping shape the platform's future. In return, they receive staking rewards generated from the platform's fee revenue, fostering a sense of ownership and engagement within the community.
.
Revolutionary Tax Protocol In addition to the launch of High-Yield Pools, ManaCoin's smart contract incorporates a revolutionary tax protocol characterized by its ability to dynamically adjust its function through each interaction. This groundbreaking protocol seamlessly integrates the following components:

ETH Reflections: Token holders are rewarded with Ethereum (ETH) based on their proportional ownership whenever the contract activates the Reflection function. This feature encourages long-term holding and community engagement.
True Token Burns: Real token burns progressively increase token holder percentages over time. The accompanying "Burner" feature simplifies contributions to this ongoing burn, further reducing the overall token supply.
Smart Auto LP Management: The platform's low-fee auto LP growth feature bolsters $MNC liquidity and rewards LP token holders. Unlike traditional auto LP mechanisms, ManaCoin's approach avoids standard auto LP costs by channeling tokens directly to the LP pair. This strategy not only preserves ETH in the pool but also provides lucrative LP rewards.
Treasury Management: The $MNC Treasury plays a pivotal role in benefiting token holders by generating rewards, facilitating strategic buybacks, burns, and LP additions. The dedicated ManaCoin team actively manages the Treasury, optimizing fund utilization for maximum returns.

Token Allocation and Strategic Focus ManaCoin's strategic token allocation demonstrates unwavering commitment to liquidity, community-driven growth, and the project's long-term sustainability:


Total Supply: 100 million tokens
Liquidity Supply: 80,000,000 MNC (80%)
Team/Reward Supply: 20,000,000 MNC (20%)


The token allocation breakdown is as follows:


Liquidity Provision: 80% of the token supply is dedicated to liquidity provision. This allocation serves as the cornerstone, ensuring a robust and stable foundation for the entire ManaCoin ecosystem.
Staking and Yield Incentives: 12% of the token supply is allocated for staking rewards and yield incentives. This allocation encourages active participation and engagement within the ManaCoin community, empowering users to earn rewards while contributing to the project's success.
Marketing and Development: 8% of the token supply is earmarked for marketing initiatives and sustaining the project's core team. This allocation ensures ongoing development, innovation, and long-term sustainability, driving ManaCoin's growth and adoption in the dynamic DeFi landscape.


ManaCoin's token allocation strategy aligns with its vision of creating a thriving and community-centric decentralized ecosystem, underpinned by liquidity, engagement, and innovation.

To explore and participate in ManaCoin's High-Yield Pools, visit  ManaCoin dApp at https://app.manacoin.io. Don't miss out on the opportunity to maximize your investment returns and join a thriving community of DeFi enthusiasts.

For more information about Manacoin token please visit https://www.manacoin.io/
About ManaCoin
ManaCoin Token ($MNC) is an ERC20 token celebrated for its hyper-deflationary characteristics, boasting intelligent auto LP management and Ethereum reflections.
Through each interaction, the $MNC token's smart contract dynamically adjusts its functionality, rewarding token holders through genuine burns, astute LP contributions, or ETH reflections.

Contact:
ManaCoin
Rondey king
[email protected]

Disclaimer:
The information provided in this release is not investment advice, financial advice, or trading advice. It is recommended that you practice due diligence (including consultation with a professional financial advisor) before investing or trading securities and cryptocurrency.

Rondey king
info at manacoin.io