TMCnet News
LoRa Alliance® Announces IEC and CEN Standards Validate LoRaWAN for Smart Metering; Builds on Earlier OMS Group and DLMS-UA Adoption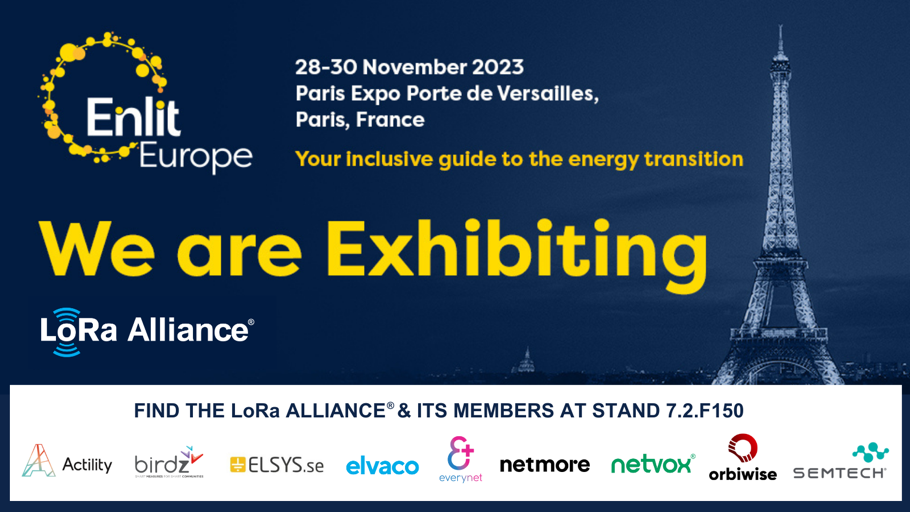 FREMONT, Calif., Nov. 15, 2023 (GLOBE NEWSWIRE) -- The LoRa Alliance®, the global association of companies backing the open LoRaWAN® standard for internet of things (IoT) low-power wide-area networks (LPWANs), today provided multiple updates on the rapid deployment of LoRaWAN as a standard for the utilities market. Notably, the European Committee of Normalization (CEN) and the International Electrotechnical Commission (IEC) recently validated LoRaWAN for smart metering. The latest LoRaWAN advancements for utilities will be featured at the upcoming Enlit conference, where the LoRa Alliance will be joined by 9 member companies in Hall 7.2, Stand F.150 at the Paris Expo Porte de Versailles from Nov. 28-30, 2023. An additional 29 LoRa Alliance member companies will also have their own booths on the show floor.
"The LoRaWAN Standard has gained significant traction in the utilities market over the past few years, and 2023 is no exception," said Donna Moore, CEO and Chairwoman of the LoRa Alliance. "As an Alliance, we have strengthened LoRaWAN's capabilities for this market with the addition of relay, which was designed to extend LoRaWAN coverage in situations where adding a LoRaWAN gateway is impossible or not justifiable. This is a benefit for utilities that need to connect all endpoints while minimizing the cost of network infrastructure. Additionally, CEN standardized the M-Bus adaptation layer for LPWAN especially M-Bus over LoRaWAN and IEC standardized the DLMS profile for LPWAN, in particular LoRaWAN. These developments validate the standard as a leading technology choice for smart metering for electricity, water, heat and gas."
Latest Standardizations
The CEN standardized the M-Bus adaptation layer for LPWAN especially M-Bus over LoRaWAN under series EN13757-8. This enables the seamless integration of LoRaWAN in the large M-Bus ecosystem primarily used in water, heat and gas metering deployments. 
The IEC standardized the DLMS profile for LPWAN under new part IEC 62056-8-12. This part of IEC 62056 describes the use of DLMS®/COSEM for Low-Power Wide Area Networks (LPWANs) and in particular LoRaWAN. DLMS is used mainly for providing a reliable, secured and interoperable data exchange for smart metering to utilities.
Device Wall
The LoRa Alliance will have a device wall with more than 30 gateways and LoRaWAN CertifiedCM end-devices and sensors designed for use in metering and utilities. Stop by to experience the breadth of available solutions supporting this market.

Relay Demonstration
LoRa Alliance members Actility and Semtech along with several metering OEMs will show how end-to-end LoRaWAN relay enables easier and more cost-effective LoRaAN coverage for smart metering. It will show interoperability between different commercial relays and how the low-power operation of the implementation enables battery-powered relay to last several years.





Member Company Demonstrations
Actility's ThingPark IoT platform enables the future of smart utilities with LoRaWAN technology by enabling the monitoring and proactive management of energy, gas and water use to achieve waste reduction, conservation and sustainability goals. In addition to the relay demo, Actility will also showcase two other advanced LoRaWAN features: IPv6 over LoRaWAN for metering based on the IETF SCHC implementation, and firmware updates over the air (FUOTA).
Birdz and Diehl Metering will show OMS over LoRaWAN end-to-end solutions enable utilities to leverage the power of LoRaWAN connectivity while maintaining backwards compatibility with M-Bus applications. M-Bus over LoRaWAN will expand the footprint of LoRaWAN in the smart utilities industry, especially in European countries.
Elsys will present wireless LoRaWAN sensors for smart buildings, cities, and industries. The company will showcase a recent deployment with its temperature sensors that is projected to decrease energy use by at least 6% in the coming winter.
Elvaco's LoRaWAN CertifiedCM MCM devices provide best-in-class smart metering solutions that connect heat meters installed in utilities, residential and commercial buildings to a private or public LoRaWAN network. Data provided by heat meters via LoRaWAN modules ensure a reliable foundation for decision-making in terms of optimized and environmentally conscious energy management.
Everynet will demonstrate, together with key ecosystem partners, how its carrier-grade LoRaWAN public network infrastructure is being used to enable live deployments of game-changing utility metering and management solutions for smart water metering & monitoring, gas leak prevention, and smart grid solutions. These presentations will demonstrate the scalability and low costs associated with using LoRaWAN.
Netmore will introduce its Pan-European LoRaWAN offering, specifically tailored for utility applications and large-scale implementations.
Netvox will present its Energy Meter for LoRaWAN, Smart Circuit Breaker for LoRaWAN, and LoRaWAN sensors powered by renewable energy that enable energy management, savings and sustainability.
OrbiWise will showcase the deployment of LoRaWAN public networks for smart water and gas metering in different European countries to demonstrate scale and the ability to cover high-density areas and extended regions.
Semtech will show interoperability between new commercial relay devices and the impact of the relay feature on energy consumption of relay and battery powered end devices. The evaluation kit of the LR1110 Modem-E will be showcased to illustrate the integration and architecture advantages for using an embedded, LoRaWAN pre-certified modem. 

Visit the LoRa Alliance website to learn more about its presence at Enlit 2023. Editors or analysts interested in arranging a private briefing during the show can contact [email protected] to make arrangements.
About LoRa Alliance®
The LoRa Alliance® is an open, nonprofit association that has become one of the largest and fastest-growing alliances in the technology sector since its inception in 2015. Its members closely collaborate and share expertise to develop and promote the LoRaWAN® standard, the de facto global standard for secure, carrier-grade IoT LPWAN connectivity. LoRaWAN has the technical flexibility to address a broad range of fixed and mobile IoT applications and a robust LoRaWAN Certification program to guarantee that devices perform as specified. The LoRaWAN standard has been deployed by more than 170 major mobile network operators globally, with connectivity available worldwide. More information: lora-alliance.org
LoRa Alliance®, LoRaWAN® and LoRaWAN CertifiedCM are registered marks. All other trademarks are property of their respective owners. All company, product and service names used are for identification purposes only.
MEDIA CONTACT:
Kiterocket
Stephanie Quinn, LoRa Alliance PR
+1 480 316-8370  
[email protected]  
A photo accompanying this announcement is available at https://www.globenewswire.com/NewsRoom/AttachmentNg/d876f470-6f87-48a2-a629-cb657ccb2e33