TMCnet News
FreeYond Debuts in Malaysia- The launch marks FreeYond's formal entry into the Southeast Asian market, starting with Malaysia
Kuala Lumpur, March 22, 2023 (GLOBE NEWSWIRE) -- FreeYond, an innovative consumer tech company from Shenzhen,  officially debuted its brand and products to the Malaysian market on March 21st, at The St. Regis Kuala Lumpur. Making a strong and bold entrance, the company unveiled eight new products at once during the launch, with YB Fahmi Fadzil, Minister of Communications and Digital Malaysia also in attendance. The successful launch establishes FreeYond as a key player and force to be reckoned with in the market.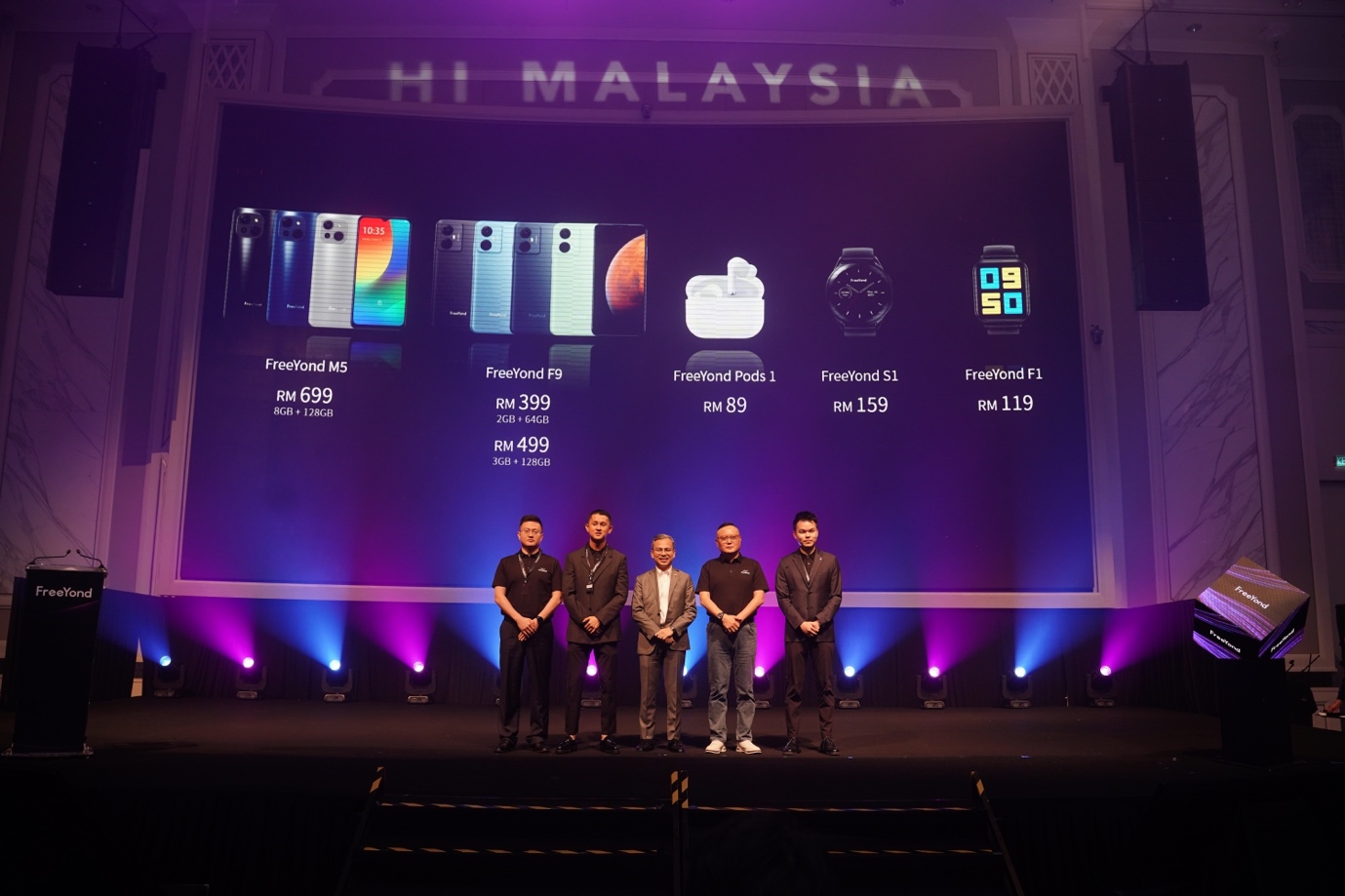 FreeYond debuts its products at The St. Regis Kuala Lumpur
Promising to redefine consumer electronics with Tech 4.0, the company unveiled two new smartphones – the M5 and F9, two smartwatches – the Watch S1 and F1, and a True Wireless Stereo (TWS) headset – the Pods 1. On top of that, FreeYond also announced three of its upcoming smartphones – the M5 5G, M5A, and F9S.
Introducing its cutting-edge technology to consumers in Malaysia marks an important milestone for FreeYond, as it expands its market reach. With a focus on innovation, quality, and customer satisfaction, FreeYond hopes to establish itself in the region as the leader in cost-effective performance and fashionably designed products.
"Our mission is to provide innovative, user-friendly products to consumers worldwide, and we're glad to bring our products to Malaysia." said Dr. Lei Yu, Founder and CEO of FreeYond. "We're confident the products we make will make a big difference to consumers in this market."
"This conference is a new milestone for FreeYond and Malaysia, and it also affirms the importance of Malaysia as the digital center of ASEAN," added Minister Fadzil. "Every Malaysian should be able to benefit and contribute to the digital economy."
He continued, "Low-income Malaysians now can access high-quality premium products, while professionals and entrepreneurs alike will get more support, which certainly helps Malaysia's digitization process."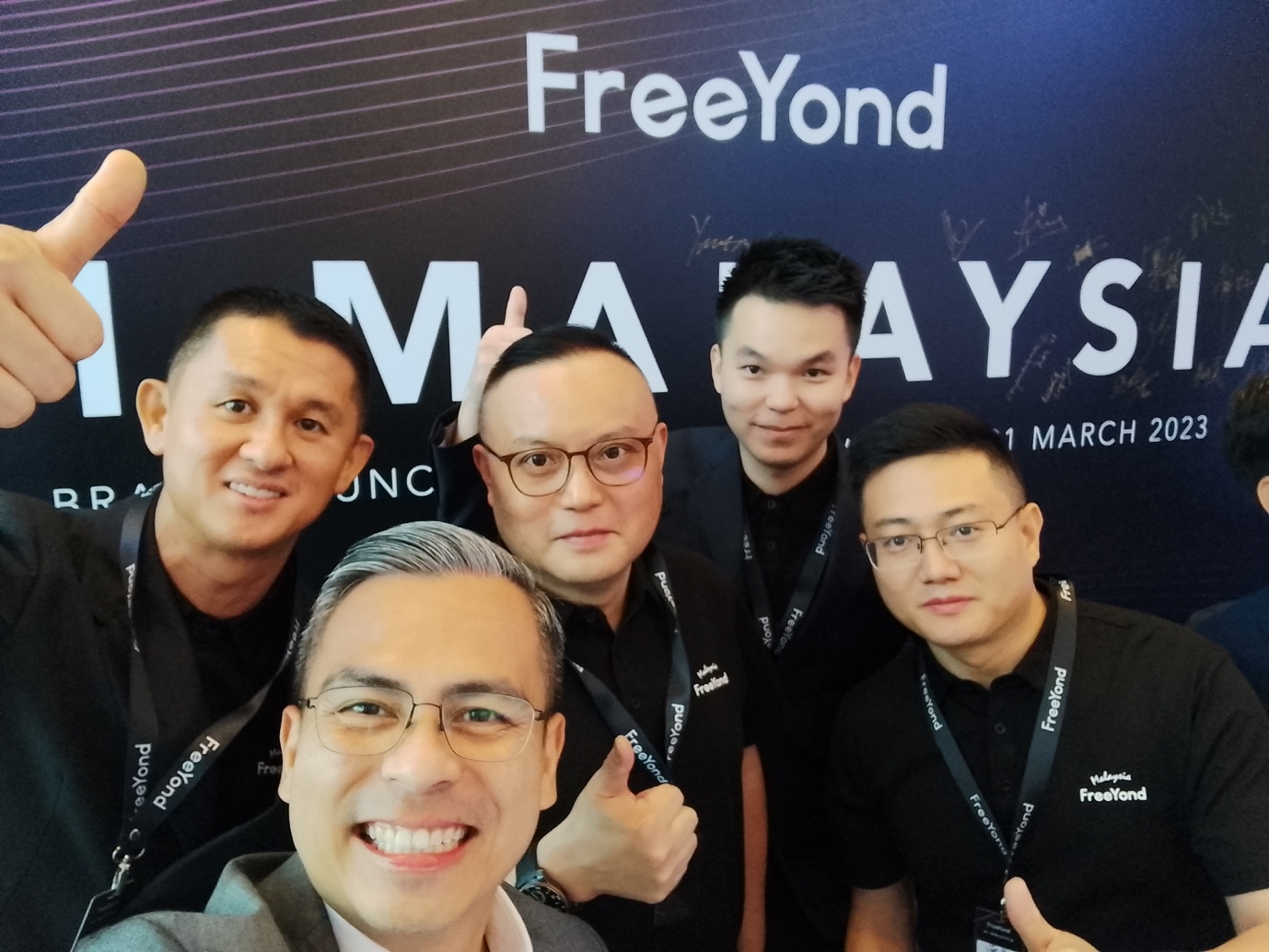 YB FAHMI FADZIL, MINISTER OF COMMUNICATIONS AND DIGITAL takes a selfie with FreeYond's team with the FreeYond M5
FreeYond's expansion to Southeast Asia came after it received an angel round investment of nearly CNY 100 million (RM64,624,380) back in January this year from a Malaysian consortium led by Datuk Eddie Chai, a well-known Malasian investor. The company intends to leverage Datuk Eddie's influence to expand its business in Southeast Asia including Malaysia, Indonesia, Thailand, and Singapore.
"FreeYond has proven that they have the vision, technological innovation, and speed to make things happen. Dr. Lei Yu and his team have a unique approach to consumer electronics and their commitment to innovation aligns with our values. We believe smart technology should be accessible to everyone, and we're confident in their ability to make a significant impact in the industry as well as the global market," commented Eddie.
The company was founded on May 9, 2022, under the leadership of Dr. Lei Yu, former Global Vice President of Gionee Group. In less than a year since its inception, FreeYond has launched two smartphone products and one TWS headset. Today, in its first global brand launch and product showcase here in Malaysia, the company also gave a sneak peek of its three upcoming smartphones.
FreeYond Smartphones – M5, F9
The FreeYond M5 is priced at RM 699 and features creative innovation to meet customer expectations in design, camera, and performance. Featuring an AI Triple Camera setup that includes a 50MP main camera, an 8MP ultra-wide-angle camera, and a 2MP macro camera, users can easily capture people, landscapes, and night scenes in professional quality.
With its 6.52-inch display, the phone not only delivers clear and true colors, but also provides a smoother viewing experience with a 90Hz refresh rate. Paired with its 8GB RAM and 128GB storage, users will get a more efficient user experience and ample storage capacity for every need. With a 5,000mAh battery and 18W fast charge, users can spend less time charging and more time doing what they enjoy.
The FreeYond F9 is a device that boasts a range of features and capabilities, designed to meet the needs of today's tech-savvy consumers. Among its key features, the phone boasts a large memory of 64GB or 128GB high-speed ROM, a real dual camera (13MP main camera and 2MP macro camera), as well as a 5,000mAh battery for all-day usage. Priced at RM399 and RM499 for the 2GB+64GB and 3GB+128GB variations respectively, FreeYond's F9 is the perfect companion for work, play, and everything in between.
Along with the two released models, the M5A, F9S, and 5G-ready M5 5G are soon to follow.
FreeYond Smartwatches – S1 & F1
Designed to cater to the evolving needs of fitness enthusiasts and lifestyle-conscious consumers, the FreeYond Watch S1 and FreeYond Watch F1 offer a range of advanced features that enable users to track their fitness, monitor their health, and stay connected on the go.
The FreeYond Watch S1, priced at RM159, is an all-in-one smartwatch with a zinc alloy frame, and stainless-steel customizable function keys. It features a 1.39-inch screen with high-hardness tempered glass and an IP68 rating. The battery can last up to 7 days with light use and has a maximum standby time of 60 days. 
The FreeYond Watch F1, priced at RM119, is a fashionable smartwatch option with a larger 1.8-inch screen. It is IP67-rated, has a battery that can last up to five days with light use, and has a maximum standby time of 50 days.
Both smartwatches come with a solid silicone strap and are equipped with total health management features including heart rate, blood oxygen level, and sleep trackers. Users also have access to total communication management, with features such as a flashlight, a water intake reminder, and more. Additionally, both watches offer over 100 activity modes, small games, and a wide variety of watch faces to choose from.
FreeYond TWS Headset – Pods 1
The FreeYond Pods 1, priced at RM89, is a True Wireless Headset (TWS) that promises up to 6 hours of use on a single charge, and a total duration of 30 hours with the charging case. With a highly sensitive composite diaphragm and 12mm large dynamic bass enhancement, the headset offers a rich and delicate open field of sound.

By using an advanced Al noise reduction algorithm, the FreeYond Pods 1 can effectively separate the background noise of users' calls in noisy environments, so that the recipient on the other end can clearly hear the caller's voice. With an IPX4 waterproof rating users can enjoy music without worry, whether sweating in the gym, walking in the rain, or trekking through the mountains.
FreeYond has gained a reputation as a leader in the consumer electronics industry, delivering innovative and high-quality products to its customers. Staying committed to quality and innovation, the company will continue to provide even more convenience and functionality to its users moving forward.
FreeYond products are now available in Malaysia at select retail stores. Its products will also be available on FreeYond's official e-commerce stores on Shopee and Lazada beginning March 26th, 2023. For more information on the company and its products, visit FreeYond Malaysia's Instagram page (@freeyondmalaysia).
About FreeYond
Starting from smartphones, FreeYond is aiming to redefine consumer electronics with Tech 4.0. Technology is at the heart of FreeYond, as it explores and seeks to expand the arena of intelligent hardware. With the goal of making smart technology available for everyone, FreeYond aims to become a global leader in influencing industry trends in the new technological age.
As part of its global market roadmap, FreeYond has already gained a foothold in the Latin American and African community, and has established the regions as its core market. From there, the tech brand hopes to expand and gradually develop in Southeast Asia, establishing the region as another core market.
Media Enquiries
Danish Lee, TEAM LEWIS
Tel: +60128017796
[email protected]

Contact: Tim Brown

Email: [email protected]