TMCnet News
Fastwyre Brings Fast Fiber-Optic Network to Warrensburg
WARRENSBURG, Mo., May 18, 2023 (GLOBE NEWSWIRE) -- Fastwyre Broadband, a cutting-edge fiber provider with reliable and affordable services across America, announced it will begin providing a robust fiber-optic broadband network to residents and businesses in Warrensburg, Mo. Fastwyre is committed to expanding in Missouri as it plans to bring service to the communities of La Monte, Nevada and Sedalia in the coming months.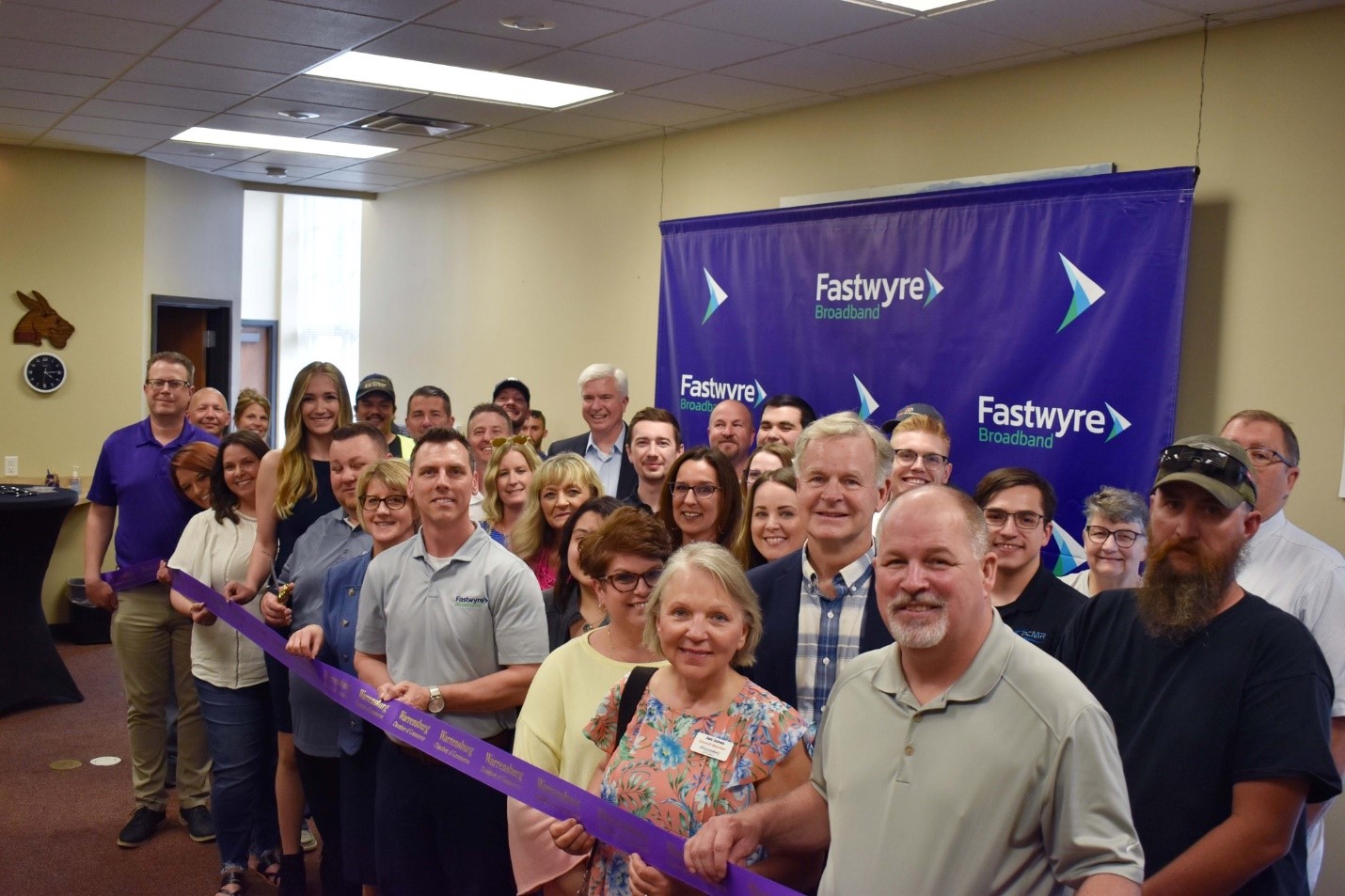 Representatives from the City of Warrensburg and state of Missouri celebrate at a recent ribbon-cutting ceremony for Fastwyre Broadband, which launched its high-speed, affordable fiber-optic network in the Warrensburg area for residents and businesses. Pictured in the front row are, from left: Greg Hall, F & C Bank Senior Vice President; Erica Jones, Open Country; Alicia Haynes, Open Country; Mariah Rudy, Fastwyre Broadband; D.J. Morris, Fastwyre Broadband; Suzanne Taylor, Warrensburg Chamber of Commerce Executive Director; Jayte Burns, Fastwyre Broadband; Stormy Taylor, Johnson County Recorder of Deeds; Jan Jones, Warrensburg City Council member and Missouri Rep. Dan Houx. Warrensburg Mayor Jim Kushner (back row, far right) welcomed Fastwyre to the Warrensburg community.
Fastwyre's state-of-the-art network features a fiber-to-the-premises infrastructure enhancement that delivers high-speed internet to help customers meet their data transmission, online video conferencing, e-commerce, virtuallearning, entertainment and telehealth needs. High-speed internet ranges from 100 megabits per second to 1 gigabit per second. Over time, Fastwyre's goal is to provide up to 10 gigabits per second.
"We are excited to join the Warrensburg community and supply our fast and high-quality fiber-optic network to residents and businesses at a terrific value," said Chris Eldredge, CEO of Fastwyre Broadband. "High-speed internet access is a critical part of our lives, and we believe all Americans should have access to reliable and affordable service. We strive to be the premier broadband provider in Warrensburg and across Missouri."
Warrensburg Mayor Jim Kushner, Missouri State Rep. Dan Houx, Warrensburg Chamber of Commerce Executive Director Suzanne Taylor and additional local leaders joined Fastwyre recently in Warrensburg for a ribbon-cutting event to celebrate the launch of the transformative high-speed fiber optic network.
Fastwyre is committed to providing best-in-class customer service and support to local residents and businesses. It will soon open a retail store in Warrensburg. In addition, Fastwyre has a track record of partnering with community organizations and supporting community enhancement initiatives to make a positive impact and advance opportunities for new business activity and job growth.
Fastwyre continues building broadly in the Warrensburg area to provide access to service across the city, to communities in Knob Noster and to underserviced areas in the region. To check service availability in your neighborhood, visit fastwyre.com/check-availability/.
When Warrensburg customers sign up for service, they can enjoy the following benefits:
Symmetrical speeds that provide equally fast uploads and downloads of rich content for a reliable, high-speed, high-quality connection that also allows streaming on multiple devices.
No data caps, overages or installation fees.
The option to bundle high-speed internet with TV and home phone services for additional cost savings and value.
Business services that include hosted VoIP phone, video and data circuit offerings with low-latency to ensure high-speed performance.
For more information about Fastwyre Broadband services, residents and business owners may call its customer service line at 833-463-FAST or visit the website at www.fastwyre.com.
Fastwyre remains at the industry forefront in innovation, continuously investing in a rapidly growing, state-of-the-art fiber network. With expansion plans in Missouri, Louisiana, Alabama and Nebraska, the company is on an accelerated growth trajectory to serve communities that require connection and service upgrades.
About Fastwyre Broadband
American Broadband Holding Company dba Fastwyre Broadband is a premier provider of broadband services delivering affordable, reliable, high-speed internet services to communities across America. The Company provides internet, phone, and video to customers in Missouri, Alabama, Alaska, Louisiana, Nebraska and Texas. Fastwyre partners in the growth and economic vitality of its communities by providing broadband and other advanced services to support new business activity and job growth.
Fastwyre Broadband is a portfolio company of Madison Dearborn Partners, LLC, a leading private equity firm based in Chicago, and Catania ABC Partners.  
More information about Fastwyre Broadband can be found at www.fastwyre.com.
Media Contact:
Jon Nyatawa
[email protected]
A photo accompanying this announcement is available at https://www.globenewswire.com/NewsRoom/AttachmentNg/5460f9cf-5038-4f5d-a521-067ada8f465f