We've come a long way in how we share information; e-mail and instant messages have afforded us to enter the era of instant communications, and how we obtain and retrieve information has been placed – quite literally – at our fingertips.
Even with the evolution of technology and information transmitted via the Internet through Ethernet, there are limitations as to how far this information can go. That's where Ethernet Extenders come in. Also known as a network or LAN extender, an Ethernet Extender is any device used to extend an Ethernet or network segment beyond its inherent distance.
Whether you need to run Ethernet over a Cat 2 telephone cable, Wi-Fi wireless access point or provide data up to 12,000 ft instead of 328 ft, the Ethernet Extender gives you what you need to make the most out of your Ethernet. Highly sought-after Ethernet Extenders surpass normal limits, and given that Ethernet is everywhere such as workstations, PCs, info kiosks and Point of Sale (POS) stations, it is the most common method of transporting over IP. Users that have large amount of data transmission to and from their various sites, including business-critical processes and applications, would make use of Ethernet extensions to facilitate high speed file transfers.
Patton (News - Alert) Electronics is one provider of Ethernet Extender solutions that help businesses of all sizes extend their Ethernet communication needs. Their award-winning copper Ethernet extenders are comprised of both long range and short range/high bandwidth solutions, and their selection tool makes it easy to figure out which product would best suit your extension needs.
In the long range/high noise environment, for example, Patton offers the Model 2160 Series which touts rates up to 45Mpbs and a reach up to 24,000 feet. Three models make up the 2160 series, including the 2162, 2161, and 2160, the 2162 being their flagship model. The maximum distance that all three of these have achieved is 4.1 miles.
The Patton Model 2150 in the short range category, offering cost-effective solutions for connecting peered 10/100Base-T Ethernet LANs; reaching remote PCs and equipment; or delivering last-mile ISP services at 10 Mbps. Additionally, because of its compact size, installation and connection is rather easy.
Recently, the company also revealed its all-new CopperLink CL1314R Ruggedized Ethernet Extender and CL1314MDE Ruggedized Multi-Drop Ethernet Extender and Repeater to link Ethernet LANs up to 4.26 miles apart in harsh environments. Some examples of said environment include railways, highways, campus or stadium security systems or supervisory control and data acquisition (SCADA) and device networks.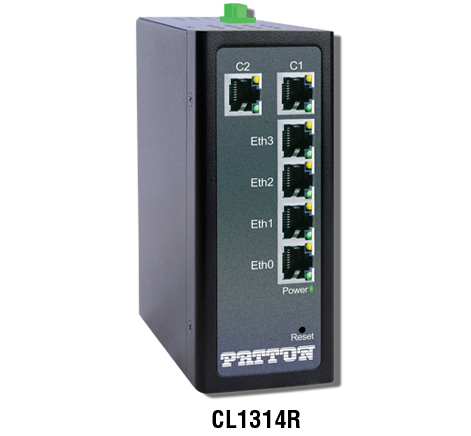 Image via Patton
When it comes to Ethernet Extender solutions, businesses can benefit by ways of performance in bandwidth, circuit protection and scalable speeds.
See the full list of Patton's Ethernet extender solutions to find the right solution to address the needs of connecting private networks between different geographical locations while maintaining quality connections.

Want to learn more about the latest in communications and technology? Then be sure to attend ITEXPO Miami 2013, Jan 29- Feb. 1 in Miami, Florida. Stay in touch with everything happening at ITEXPO (News - Alert). Follow us on Twitter.
Edited by
Allison Boccamazzo